Some visit Udaipur's icons; others live in it.
About Hotel The White Fresco: 
Welcome to the pinnacle of luxury, where contemporary awe and modern flare collide. Hotel The White Fresco. is situated in a peaceful area and offers quick access to the popular tourist attractions of the City of Lakes—Udaipur. It provides cutting-edge facilities that are evident in all its luxurious rooms and suites. Hotel The White Fresco offers a panoramic view of the city from its prime location at Govardhan Vilas. The kind staff at this lovely establishment extend traditional Indian hospitality and look after you in a way that makes you feel at home.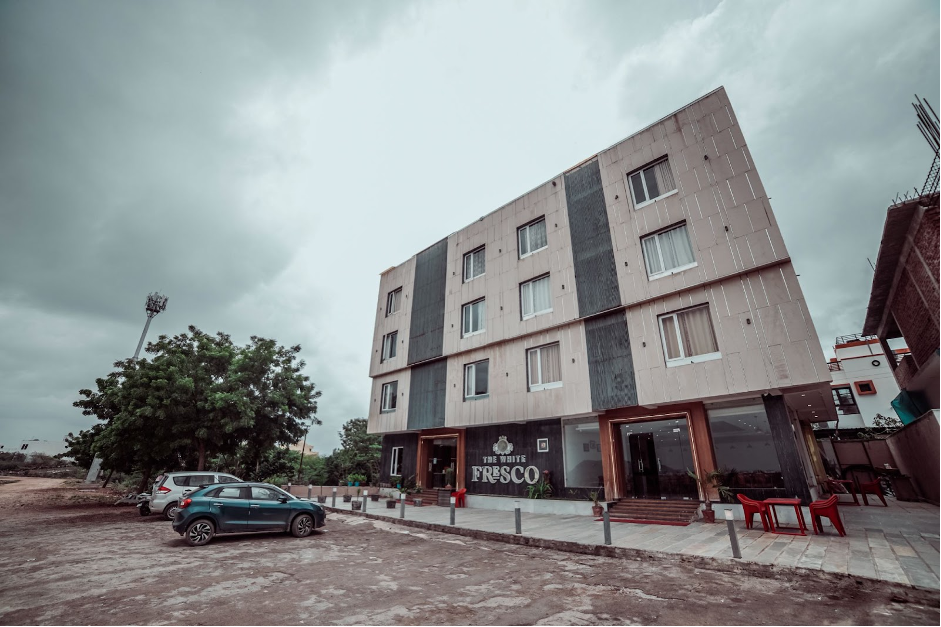 Launched in 2019, Hotel The White Fresco. is a comprehensive three-star hotel. It provides you with premium-class luxury that resonates through its accommodation, cuisine, and recreational activities. At just 25 kilometres away from Maharana Pratap Airport and 5.2 km from Udaipur Railway Station, this luxury hotel offers 18 attractively decorated, spacious guest rooms, 2 dining restaurants, 1 rooftop, 1 swimming pool, upscale wellness amenities, and grand settings for meetings and gatherings. The hotel incorporates local culture and motifs into its interiors and architectural design to pay homage to Udaipur's colonial past.
Services
Rooms and Suites
Concierge Desk
Dining and Cafeteria
Swimming Pool
Gaming Zone
Meetings and Events
Wedding Banquet Halls
Rooms
1.) Suite Room 
Welcome to a tranquil hideaway overlooking the city of lakes. Each room provides distinctive charm and character in opulent surroundings.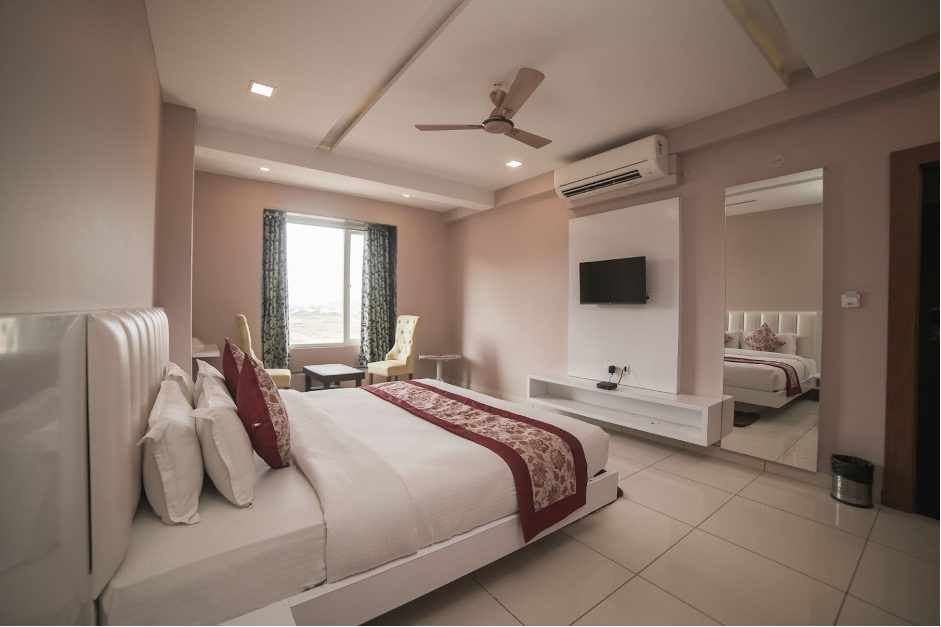 2.) Deluxe Room
Three-star hotel rooms where elegance meets comfort. Each room promises a hassle-free stay with unforgettable views of the glittering city skyline.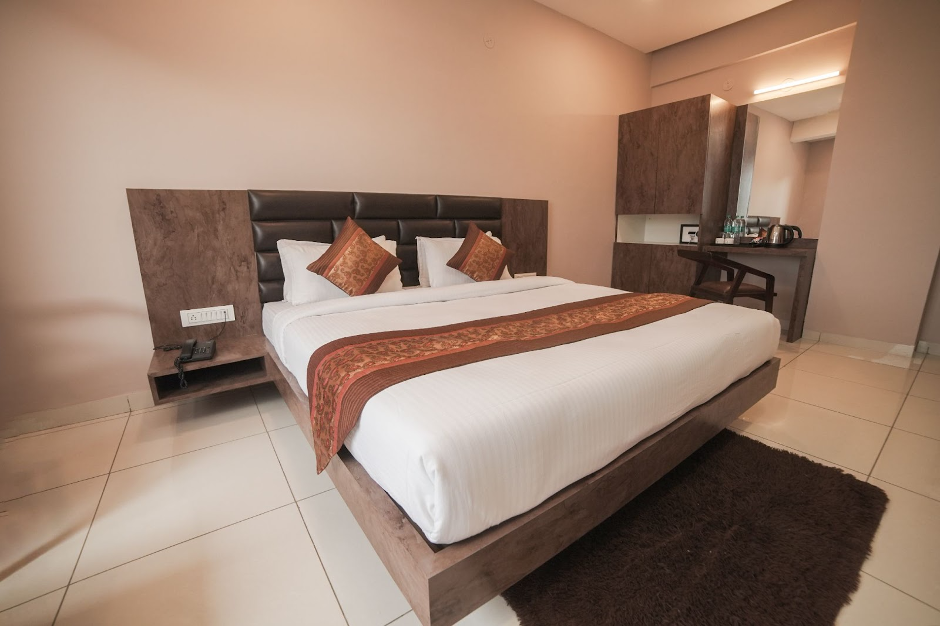 3.) Super Deluxe Room
Stay in their most opulent Super Deluxe Room, hovering above the Goverdhan Sagar lake, to experience the pinnacle of luxury travel. Enjoy breathtaking city views from each room and the outdoor patio.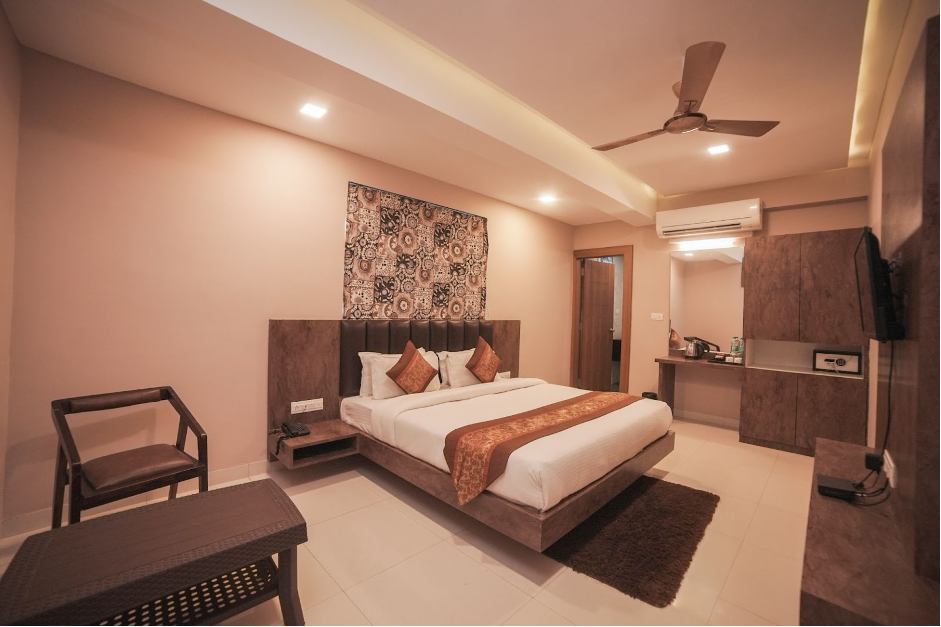 Restaurant & Cafeteria
The Rooftop Restaurant, with a stunning view of the city, offers a delicious selection of pure vegetarian Indian and international cuisine. Outdoor seating is also available. The cafeteria at Hotel White Fresco is an ideal location for eating with the best ambience.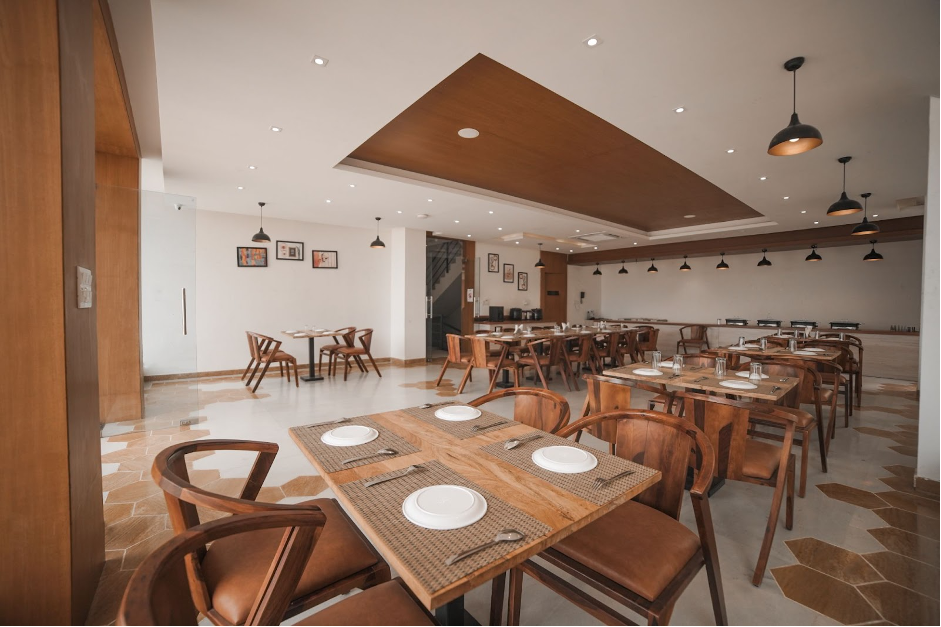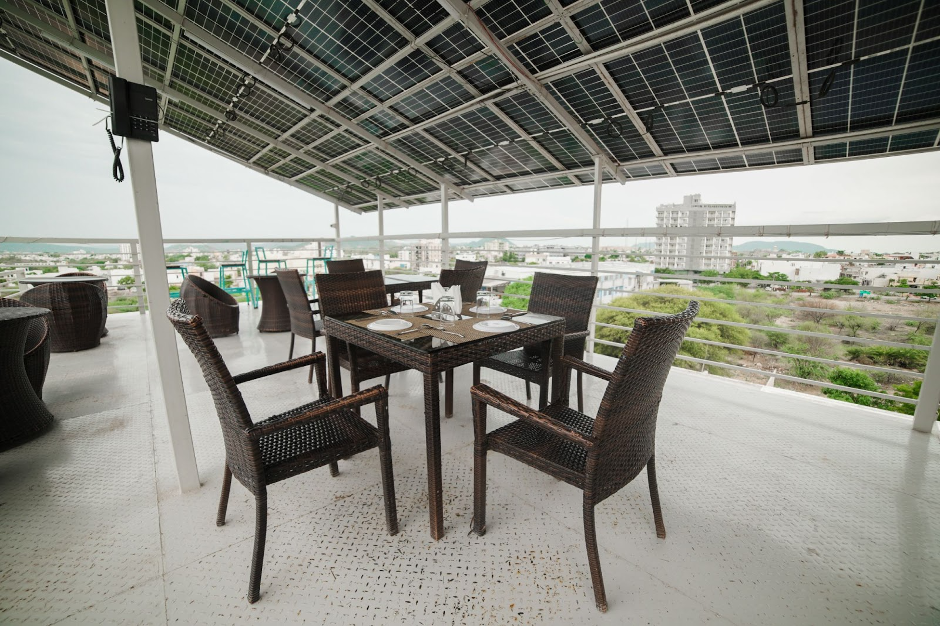 Rooftop Swimming Pool
The relaxing outdoor pool on the hotel's rooftop, accompanied by a stylish sun deck, invites you to have a refreshing and energising swim. The swimming pool of this luxurious getaway is a perfect place to unwind or get in shape.
 Game zone
A full-sized snooker table, table tennis, chess, and other games with a top-notch atmosphere are available at Hotel The White Fresco.
Special Features
Location: One of the standout features of this hotel is its location. It is tucked away in the midst of  Udaipur city's commercial, entertainment, and shopping zones. Living here gives you easy access to the area's excellent attractions, like the Govardhan Sagar and much more.
Must visit places near Hotel The White Fresco.
1. The City Palace
Distance: 5.9 Km
Commute time: Approx. 14 Minutes
2. Lake Pichola
Distance: 6.4 Km
Commute time: Approx. 15 Minutes
3. Gangaur Ghat
Distance: 6.9 Km
Commute time: Approx. 18 Minutes
4. Lake Fateh Sagar.
Distance: 10.6 Km
Commute Time: Approx. 22 Min.
5. Saheliyon Ki Bari.
Distance: 10 Km
Commute time: Approx. 21 Minutes
Undoubtedly, Udaipur is a perfect getaway location for people all across the globe. It offers an array of locations to visit and experiences to cherish. Hotel The White Fresco welcomes you to the city of lakes with open arms. Their facilities are meant to cater to prestigious guests and offer them a happy memorable experience. The best part of Hotel The White Fresco is its location as it is situated in the heart of Udaipur. So, visiting all the tourist attractions won't be a problem! So, whenever you visit Udaipur, Hotel The White Fresco must be your choice
For more details, you can visit the hotel at the address mentioned below.
You can drop a call on +91 9950068699/ 8824902937 and book your rooms prior to arrival.
Address: Plot Number 5, Sajjan Nagar, Near Marvel Water Park, Opposite Saras Dairy, Udaipur