Done watching the lakes and palaces of Udaipur? Depending on how much time you have, there are various destinations to explore around Udaipur that make fantastic day expeditions. Here are some of our favourites.
Top 10 Places to Visit Near Udaipur
Udaipur is on the "must-see lists" of most voyagers and is one of the most popular vacation spots for both Indians as well as international travellers. This city is a perfect blend of hill stations, hiking places, and animal reserves. There are multiple destinations in and around Udaipur that are an ideal weekend getaway for both relaxed tourists and adrenaline-fueled junkies. Let us walk you through the 10 most interesting places to visit near Udaipur that highlight the city's charm and provide an excellent vacation experience.
1.) The Chittorgarh Fort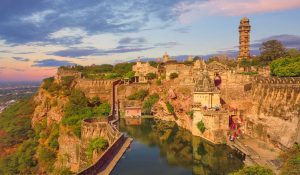 Chittorgarh, the most significant fort of the Mewar dynasty, was the capital of their empire for almost 800 years until it was seized by Mughal Emperor Akbar in 1568. Its history dates back to the 7th century when local Mauryan rulers began making it. In June 2013, Chittorgarh was designated as a UNESCO World Heritage Site. It is a large fort, and the monuments are conveniently accessible by car. There are historic palaces, temples, towers, a pond (with feedable fish) and a royal cremation site inside the fort. The Victory Tower provides spectacular views of the fort and town. There is a music and light show in the evening time, that tells the narrative of the fort (but in Hindi only.)
Location: Approx. 110 Km North-East towards Udaipur- Chittorgarh Road.
Timings: 10:00 AM – to 5:00 PM daily
2.) The Ranakpurji Jain Temple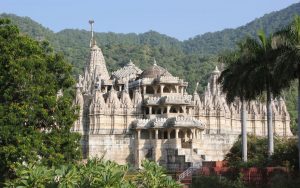 Jain temples are reputed to be the most magnificent in India and the temple in Ranakpur proves it all. It is simply one of the most mesmerizing Jain temples across India. It's the country's largest and most important Jain temple, dedicated to the first Tirthankar (saviour and spiritual teacher) Rishabh Dev Ji. Chaumukh Mandir, the principal temple, was constructed in the 15th century and was built out of white marble featuring 1444 carved pillars, 29 halls, and 80 domes! It will take you around an hour to admire its heritage beauty and construction. Both men and women must dress appropriately (legs and shoulders covered) to visit the temple and must not carry any leather items (including belts), shoes, food, and cigarettes with them. Menstruating women are also not permitted to enter the temple. It is feasible to visit Kumbhalgarh, which is close by, from Ranakpur. You can also explore the Kumbhalgarh Wildlife Sanctuary which is quite nearby Ranakpur.
Location: 93 Km Northwest of Udaipur, which will take approx. 2 hours to reach this place.
Timings: 10:00 AM to 5:00 PM (Non- Jains are also allowed to visit the temple)
3.) Mount Abu: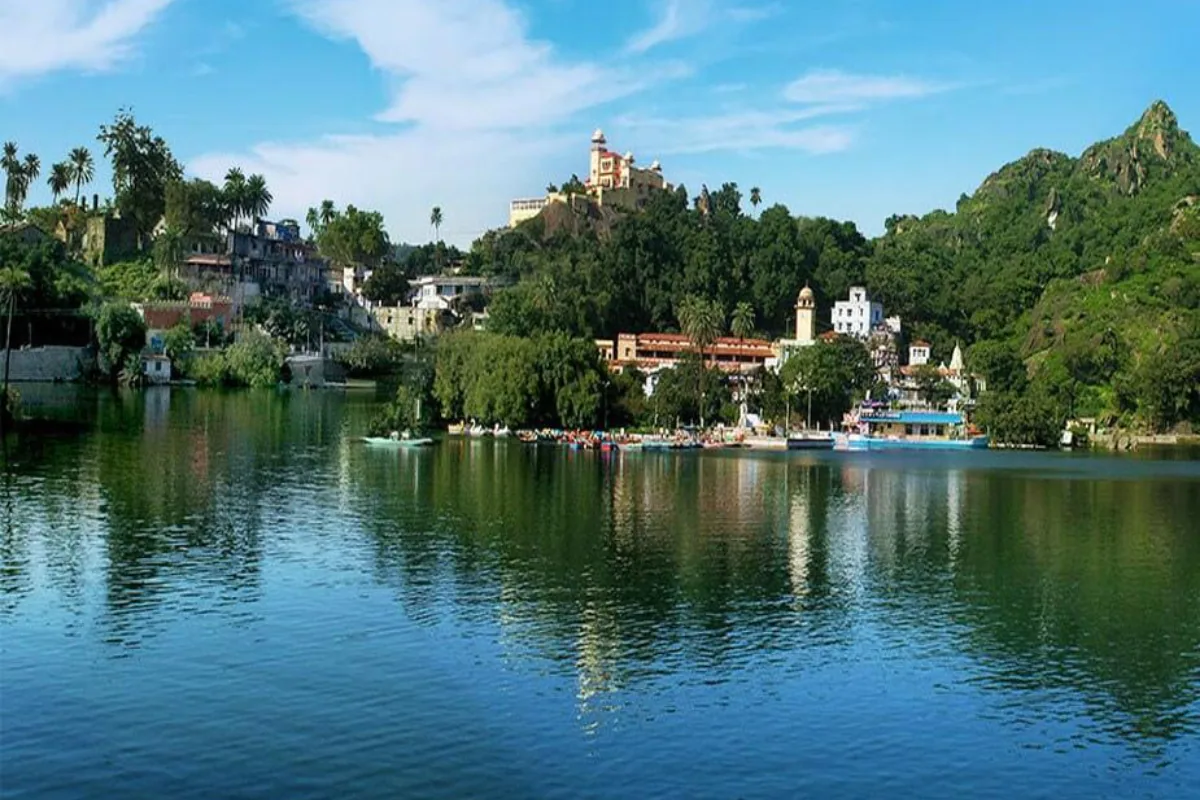 Mount Abu- the only hill station of Rajasthan, is located in the Aravali range. The Dilwara temple- a stunning piece of architecture, is located in Mount Abu and is definitely a must-visit tourist place. Travellers may enjoy peaceful and relaxing boating on the Nakki Lake, as well as enjoy the view of the sun setting from vista spots. Enjoy the local cuisine at the restaurants and cafés with fantastic locations. Guru Shikhar, the tallest mountain in the Aravali Range, is also located in Mt. Abu. Mount Abu Forest Sanctuary is another highlight of this place, with its diverse flora and animals.
The Dilwara temple's incredibly ornate design is the major attraction of this place, and you may spend hours and hours admiring how these temples were created over two centuries, about 1000 years ago. The temples were intentionally made simple from the outside, or deter the burglars.
Location: 161 Km from Udaipur (takes about 3 hours via road to reach this place).
Timings: Anytime
4.) The Pushkar Lake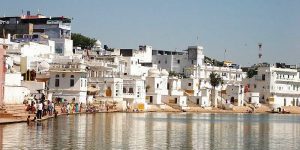 Pushkar Lake is a recognized pilgrimage place in Pushkar, Rajasthan, that attracts worshipers and spiritual individuals from all across the globe. In the evening, one may either watch the evening aarti on the ghats of this magnificent lake or take a plunge in the afternoon to wash away their sins. Whatever you do, you'll find that this lake is one of the most gorgeous spots in Pushkar and one of the calmest tourist destinations located near Udaipur.
Location: 277 Km from Udaipur takes approx. 4.5 hours to reach this place.
Timings: Anytime.
5.) Kumbhalgarh Fort
 
Situated 85 Km towards the Northwest of Udaipur amid the beautiful Aravali hills, is the Kumbhalgarh Fort, which is the second most significant fort in Rajasthan. There are a series of temples built inside the Fort by The Mauryas. Badal Mahal, which is also the most magnificent part of the fort, should not be overlooked.
Kumbhalgarh's amazing vistas of the surrounds are a visual feast, and its breathtaking grandeur makes it one of the most popular tourist destinations near Udaipur.
Location: Approx 85 Km Northwest of Udaipur, which takes about 2 hours to reach this destination.
Timings: 9 AM- 5 PM
6.) The Ekling Ji Temple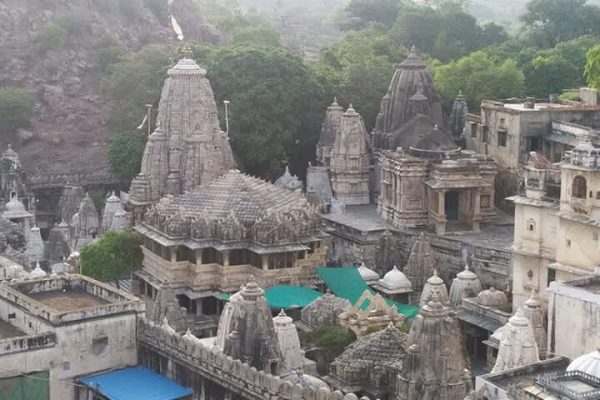 If you're looking for a spiritual experience, visit the Shri Eklingji Temple. The temple is made out of marble and is dedicated to Lord Shiva. Large, colourfully painted statues of Lord Shiva's Nandi Bull may also be found there. Bapa Rawal, the founder of the Mewar Dynasty, designed this temple. Every Monday, the head of the royal family of Mewar visits the temple and worships Lord Shiva by performing the Grand Aarti. Please do not carry your smartphone or camera as photography is prohibited inside the temple. Take a stroll around the back of the temple to get a spectacular perspective of the lake. You can also visit the ancient Saas Bahu temple dedicated to Lord Vishnu located nearby the temple.
Location: Kailashpuri, about 21 Km away from Udaipur and takes approx. 30 Min. To reach this place.
Timings: 10:30 AM – 1:30 PM and 5:00 PM to 7:30 PM
7.) The Shrinath Ji Temple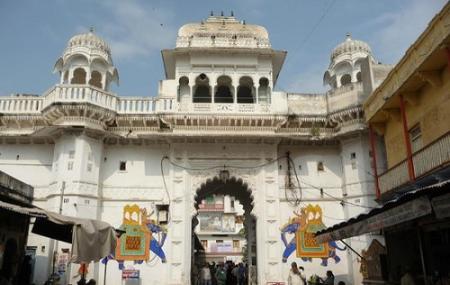 If you continue driving towards the north on the National Highway 8 for about 45 minutes till you reach the little holy town of Nathdwara. This temple was built in the 17th century for the worshippers of Lord Krishna and has a beautiful idol of Shreenathji. Traditional Pichwai paintings depicting incidents from Lord Krishna's life are very interesting and can be seen on the walls of buildings all across town. They're repainted every year right before Diwali, giving Nathdwara a unique site to enjoy the Indian celebration. There is also a captivating market Near the Shrinathji Temple, where you can find almost everything, from jewellery to bags to colourful clothing. It truly is a shopper's paradise.
Location: NH 8 Nathdwara is about 45 Km away from Udaipur, and takes about 1 hour to reach this place.
Timings: Morning 4:30 AM – 7:00 AM and 10:30 AM to 1:30 PM
Evening: 5:00 PM – 7:30 PM
8.) Jawai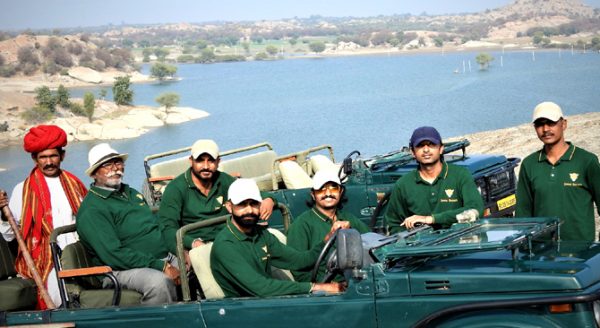 Located approx. 170 km away from Udaipur in the Pali region is the Jawai Wildlife Sanctuary, which is home to a variety of wild animals, including leopards, Crocodiles to name a few. Jawai is also known as "Leopard Hills," There are many luxury camps in its close proximity, and you can also go on a jungle safari to see these leopards.
Location: Approx. 170 km away from Udaipur in Barawal Village, Pali.
9.) Mahi Dam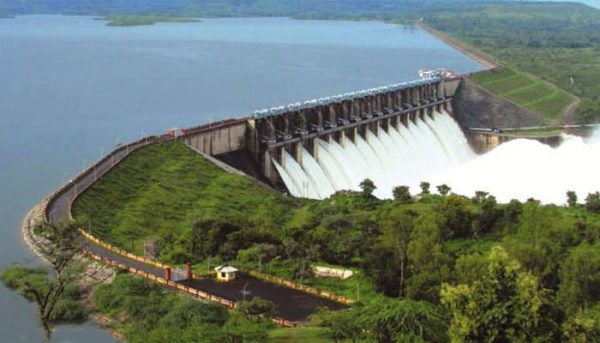 Dams are among the most intriguing tourist attractions around Udaipur since they allow visitors to view not only the greatest artistry but also the surrounding natural wonders. And Mahi Dam is one such Dam near Udaipur that you must visit. Inspired by the name of Shri Jamnala Bajaj this dam is also known as Mahi Bajaj Sagar Dam. It is the second-largest dam in Rajasthan and is located on the Mahi River. Moreover, it is also a very important source of water and hydroelectricity for Rajasthan state. The dam's gates are open during the monsoon season, and visitors may see the spectacular vistas of water flowing out furiously through the 16 gates in full force. inspired the name.
Location: Approx 172 km away from Udaipur in Banswara district, and take around 3.5 hours to reach this place.
Timings: 9:00 AM – 6:00 PM
10.) Haldighati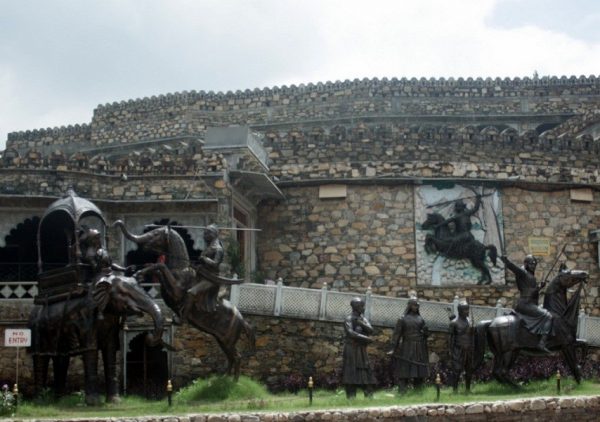 Haldighati is a mountain range in the Aravali Hills around 50 kilometres away from Udaipur. Its name is inspired by the soil's golden colour. The Battle of Haldighati fought here in 1576 between the army of the third Mughal emperor, Akbar, and the ruler of Mewar, Maharana Pratap Singh, is historically significant. The Chetak Horse Memorial and the Maharana Pratap Museum are also worth visiting.IT perhaps is one of the most essential destinations to visit near Udaipur for all those history buffs out there.
Location: Approx 65 Km away from Udaipur and takes around 1.5- 2 Hrs to reach this place.
Timings: 8:00 AM – 7:00 PM
If at all heaven on earth exists, it perhaps is in, and around 200 km diameter of Udaipur. Unleash the traveller inside you and come visit Udaipur. Also, feel free to drop your suggestions at info@udaipurblog.com.