Congratulations Iron man, Rishabh Jain for successfully completing a gruelling solo cycling journey from Udaipur to Vaishno Devi!
Distance travelled: 1300 km
Time: 6 Days 5 Nights
Crossed: 3 states and 5 cities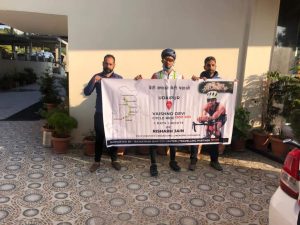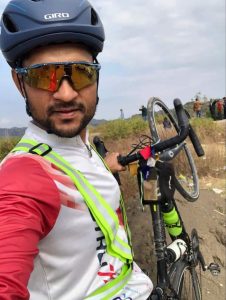 What made it a tough ride was the elevation from Mewar to Marwar and then from Punjab to Jammu. Riding solo on an isolated highway for such a long distance not only requires physical fitness but also a strong mental determination.
Let's know about "behind the scenes" from the desk of the champion himself:
Day 1 – Udaipur to Kishangarh
A tough 300 km something ride from Udaipur to Kishangarh!
Day 2 – Kishangarh to Shree Sardarshahar
The total distance was 257 km, and as usual, the Rajasthan road held the same challenges that were elevated roads and hot climate. Fortunately, there were stay facilities provided by the SDM City, Udaipur. Started the ride at 7:15 am and reached Sardarshar at around 6:30 pm.
Day 3 – Sardarshar to Sri Ganganagar
The total distance for covering this ride was 220 km. I left from Sardarshar at 6:00 am and reached Sri Ganganagar at 6:15 pm. Shockingly, there was a surprise welcome by Vikas Godhra, who is a business icon, showroom owner of Toyota & Mahindra, as well as a dealer of Toyota automobiles in over 60 cities. It was a grand welcome by the owner and staff members of the Toyota showroom. Also, the stay was arranged by them, which overwhelmed me.
Day 4 – Sri Ganganagar to Amritsar
After entering Punjab, border road was comparatively good with a broad highway. Although there were many ups and downs in the form of multiple fly-overs. I started from Sri Ganganagar Magar at 5:30 am and reached Amritsar by 8:00 pm. The total distance was 256 km, and there was another cyclist from Tarn Taran, Amritsar, who was waiting for my welcome. It was such a nice gesture from all the other enthusiastic riders from there. Certainly, I had a pleasurable stay at Amritsar, at one of the cyclist's home!
Day 5 – Amritsar to Jammu (Katra)
The total distance covered here was 220 km, with an additional 40 km, making it a 260 km ride altogether.
I started the ride at 5:15 in the morning from Amritsar. A few cyclists from Amritsar and Tarn Taran rode with me for the initial 50 km. We had a delicious breakfast together. Day 5 was extremely tough, since just 60 km before reaching Jammu, there was a thunderstorm! My clothes got fully soaked from top to bottom, and it was quite challenging to ride with all the extra traffic on the roads, which were mostly submerged in water. In between all the hassle, the low temperature created further hindrance. However, I somehow managed to reach Jammu at around 7 pm. My whole body was shivering badly when I finished my ride and went to the hotel room. Thankfully the room had hot water, where I took a bath to relax somehow from the exhausting day. I completed 90% of my ride in the evening/night, and till next morning, at around 11 am, there was heavy rain in Jammu again! I was badly waiting for the rain to stop since I needed to go to Katra, which was 40 km away. So, I decided that if the rain doesn't stop, then I will start my ride. But thankfully, the rain stopped, and I left for Katra at 11:30 am and reached there at 3 pm.
Rishabh also added, "When I started climbing for Bhawan for Darshan Mata Ji, it took me all night to go up and come back."
Here are a few glimpses of Rishabh's solo cycling escapade: