Any valuable possession needs insurance for added security. Therefore, four-wheeler owners should opt for a car insurance policy to protect their vehicles in case of an accident, damages or theft. 
The concept of any insurance is quite simple. One needs to pay a regular premium to get financial coverage from the insurer in case of any unfortunate incident involving the insured asset.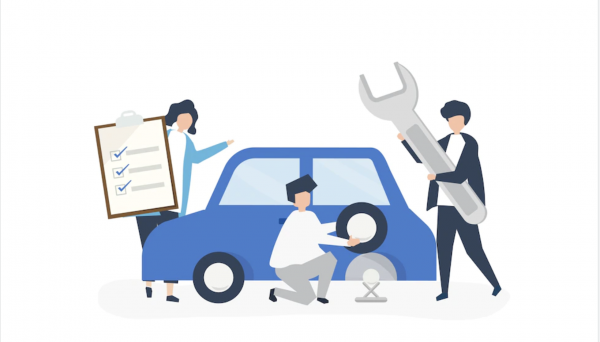 Also Read – How to use a car insurance premium calculator?
Here's a clear idea of how car insurance work in India.
Why should you buy car insurance in India? 
Car insurance is mandatory in India as per the Motor Vehicles Act, 1988. Therefore, one must opt for a suitable car insurance plan while buying a four-wheeler. Otherwise, it might lead to severe penalties. Moreover, insurance covers the owners' financial expenses if their car faces accidents, theft, damages from natural calamities, etc. 
Types of car insurance in India: 
There are two types of car insurance in India:
Third-party
It is a mandatory motor insurance policy that every car owner has to purchase while buying a car. It covers the expenses one incurs due to third-party damage to life or property.
Comprehensive
A comprehensive car insurance policy provides all-around coverage. It comes with all the benefits of the third-party policy and personal damage coverage.
Also Read – Best Way to Renew Car Insurance During COVID Times
What is covered in a car insurance policy? 
Car insurance policies provide the following coverage:
Third-party  damages for property, injuries and death

Damages due to natural calamities

Fire damages

Car damage due to accident

Theft

Vandalism damages, etc. 
Note: Third-party policy only covers third-party aspects, while comprehensive covers both own damage and third-party damage expenses.
What is not covered in a car insurance policy? 
A car insurance policy does not cover any damages when a person is driving:
under the influence of intoxicant or alcohol

without a valid driving licence

without renewing insurance plans
Also Read – How to Compare Car Insurance Effectively to Save on Premium amount?
Note: Damages caused during a war or expenses for servicing are not covered.
How is a car insurance policy priced or calculated? 
There are two types of car insurance in India, and their pricing also varies. Here are two ways in which it is calculated:
Third-party insurance policy
IRDAI decide the rates and premium of a third-party car insurance policy in India. This rate remains the same across all the car insurance companies and is not subjected to yearly changes.
Comprehensive insurance policy
In the case of a comprehensive insurance policy, an insurance company can charge the premium according to its structure. However, at certain points related to the third-party coverage, they must abide by the rules of IRDAI.
Also Read – Top Car Insurance Add-Ons to Buy Before the Monsoon Season
Add-ons for car insurance
Add-ons or additional riders enhance the coverage provided by comprehensive car insurance. Here is the list of add-ons that an insurance provider offers on comprehensive policies:
Zero depreciation cover

Consumable cover

Passenger cover

Tyre protect cover

Return to invoice cover

Breakdown assistance

Engine and gear-box protection cover and more
How to make car insurance claims? 
Here are the following ways to claim car insurance:
Filing an FIR at the local police station

Contact the insurance company to file a claim at the earliest. It can be done via call, email or the mobile app of an insurer

Submitting the required documents as instructed by an insurance company
Note: In case of third-party claims, the concerned party has to file a claim with an FIR. The Motor Claims Tribunal will conduct the entire hearing and settlement procedure. 
Should you file claims for small damages? 
Small damages are not recommended for filing claims because of the following factors:
It is advisable to settle smaller issues by repairing them on your own because raising a claim would make the owner pay for a voluntary deductible. 
Car owners get a no-claim bonus if they do not claim throughout the policy period. It helps in getting a discount while renewing the policy.
How to buy the best car insurance policy in India?
Car insurance policies are available in the following ways in India:
Online mode
One can opt for an online mode for a seamless policy purchase and transaction by visiting the insurance provider's website.
Offline mode
This traditional method lets you purchase insurance by visiting the insurance office or an agent.
Also Read – Here's How Car Insurance Helps in Adhering to Traffic Laws
Conclusion
This guide lets first-time car-owners have a clear idea about how car insurance policies work. There are multiple insurance providers in the market today. However, it is advisable to review the insurance policies before purchasing them carefully.