A real foodie isn't a person who just loves to taste the variety which is being served across the globe. Instead, he'd like to serve them with his/her own savor. And if you are one of them and dreaming to build a career in the same. This is the right opportunity for you and you'd be crazy if miss this one out.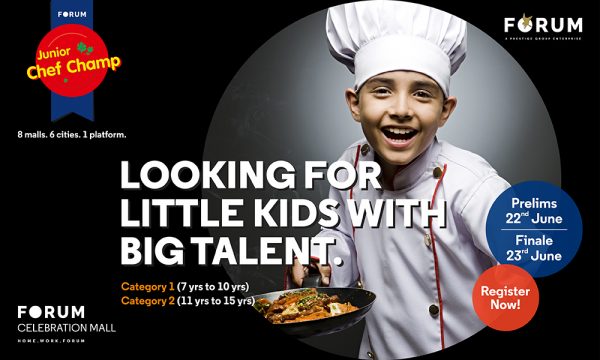 The opportunity:
Hello Parents and kids! We are looking for Kids with Big Talent!
Forum Junior Chef Champ is the signature event organized by the renowned Forum group. Forum Celebration Mall is all set to bring in the new edition of 'Forum Junior Chef Champ'.
Let your kids showcase their cooking talent in one of the biggest Junior Chef Championship which is held across 8 Forum malls spread across 6 Cities.
Forum Junior Chef Champ Details:
Last date to register: 20th June 2019, 9 PM
Categories in Forum Junior Chef Competition:
Category 1 (Ages 7 – 10)
Category 2 (Ages 11 – 15)
Entry Fee: The competition is free of cost for all the contestants.
Cooking Facilities during Competition: Forum Junior Chef is a cooking competition without fire. All the ingredients along with cutlery are to be brought in by the contestant. However, induction stove will be provided by the organizers. No pre-prepared or pre-cooked ingredients from the contestants is allowed. Equipment/cutlery can be brought by the contestants.
How can you register: Participants can register by visiting the Mall Information Desk and fill out the application form or register online through www.forummalls.in
Criteria for judging the dish: Innovation, Creativity, Taste, and Presentation.
Time Duration Allotted: 45 minutes for the preliminary round and 90 minutes for the finale.
o    Prelims: 22nd June 2019
o    Finals: 23rd June 2019
Venue: Forum Celebration Mall
It is an exceptional and unmatched opportunity for all the cooking lovers out there.
The winnings you don't want to miss:
Top Winners in each category will be awarded Trophy & free Gift vouchers from the mall.
So all the junior chefs out there in the city, the perfect opportunity is knocking your doors. You don't want to regret it later missing the event, we can bet on this.
Terms & Conditions Apply.