Udaipur is known for its culture and diversity. And festivals are the mirror of the cultures. Big or small, the enthusiasm with which we celebrate every occasion is what makes it special.
The small rituals during the festivals keep us connected with our traditions and create a sense of belongingness. Every household has its own little traditions which they perform with friends or family. In some families, it is celebrated on Ashtami.
Every festival comes with new learnings and beginnings. One such festival is Sheetala Saptami. Like every other festival in the city, Sheetala Saptami also revolves around interesting stories recounting the history behind various festival rituals.
It is celebrated in honour of Sheetala Mata, this Goddess is an incarnation of the feminine power. People worship Sheetala Mata to protect themselves, their family and friends from getting inflicted from diseases like smallpox and chickenpox.
When is it celebrated?
It is observed on the 'Ashtami' of the Krishna Paksha during the Hindu month of 'Chaitra'. It corresponds to the month of mid-March to April. Sheetala Saptami generally comes after 8 days of the Holi Festival. But in some communities, it is celebrated on the first Thursday or Monday that comes after Holi.
Significance
As per Hindu mythology, Goddess Sheetala is an incarnation of Goddess Durga and Maa Parvati. The goddess is seated on a donkey and has been shown as holding neem leaves, broom, soup and a pot. Her grandeur has been mentioned in several religious stories.
The benefit of worshipping goddess Sheetala has been explained in various details. It might not be known to many that the Sheetala Mata story was written by Lord Shiva and also known as Sheetalashtak.
Rituals
The festival starts with getting up early before sunrise and taking a bath. Then pay a visit to Sheetala Devi Temple and offer prayers with 'Haldi' and 'Bajra'. After performing the rituals, listen to the Vrat Katha. And then offer other essential offerings like curd to the goddess. After offering food to the deity, the rest of the food is eaten all day long as prasad. In some parts of the country, people also shave their heads to please the Goddess.
We all will be remembering this festival as the day of eating cold food. As per the traditions, we do not light fire for cooking. Therefore, we prepare the food a day in advance and consume the food the next day. This would be the only festival where cold food is offered to Goddess Sheetala.
On this day simple, non-spicy food is made. It is said that eating normal cold food acts as a relaxant to the digestive system. As Sheetal means cold, so Sheetala Mata vrat incorporates cold food, so that our stomach is not aggravated, and gets food that is easy to digest.
Story of Sheetala Mata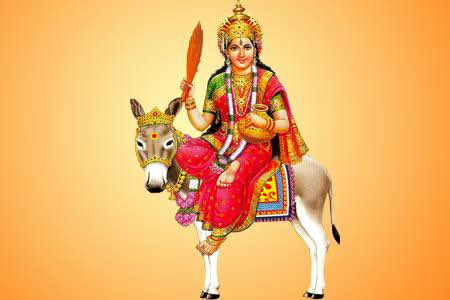 It is believed that a woman lived in a village. The woman was a devotee of Sheetala Mata and also kept her fast. Other people of the village didn't keep the fast of Sheetala Mata and neither did they have any faith.
A sudden fire occurred in the village, everyone's huts were burnt except the devotee of Sheetala Mata. When the reason came to know, everyone understood that this happened because of worshipping Sheetala Mata. Since then people started worshipping Sheetala Mata.
We are living in a world where every day a new disease is taking birth and some country is starting a war. In these times we need to have a belief and a sense of unity that will keep us going on.
These festivals are our happy distractions from all these things which are going on in this world. It gives us peace and creates a sense of motivation amongst us.
As we go deep into every festival's origin there are big learnings hidden in them. This festival marks the safety of our people. We all always pray for our and our family's safety. And this festival is nothing but praying for safety.
Written by- Vaishali Jain