Udaipur- One of India's most popular and picturesque cities, is home to several splendid palaces, as well as stunning lakes and temples. However, if you are a night person and love to party at night, then you are likely to be fascinated by the nightlife of this gorgeous city.
The recent urbanization has introduced bustling nightlife or nightclubs in the town. Nearly all of Udaipur's bars and restaurants are open till 11:00 PM, where you can enjoy a refreshing drink facing the lake under the dark colossal sky. Here's a list of some of the top local venues in the city where you can spend a night with friends and family.
Bars: 
The majority of Udaipur's bars are in hotels themselves, with rates varying as per the hotel's standards. A simple drink might cost you around Rs 800 to Rs 1,000 inclusive of taxes if you order them at top-notch restaurants. However, you can also find reasonable options at small stand-alone local joints. Furthermore, the alcohol variety will be extended beyond beer, whiskey, and rum depending on the restaurant category! On special evenings, certain bars feature DJs and dancing, although the party is usually finished by midnight.
1.) SANGRIA BAR & ROOFTOP LOUNGE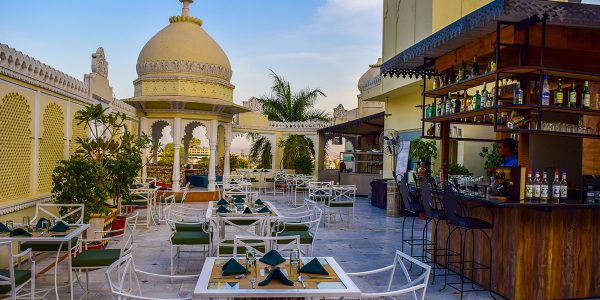 Credits: www.swaroopvilas.com
Sangria Bar & Rooftop Lounge is a full-service dining area that specializes on multi-cuisine to attract diners from all over the world. The scenic view of the lake and city from Sangria Bar & Rooftop Lounge will make your evening a memorable one. Enjoy a relaxing evening beneath the stars while listening to live music and enjoying the scrumptious food. The outlet's key design elements include a dart board, billiard table, community table, and a huge screen that broadcasts "live" all major sporting events. The communal table is a sitting area with a direct view of our large screens, making it ideal for watching a game with friends.
Address: 6, Ambavgarh, Opposite Swaroop Sagar Lake, Udaipur, Rajasthan 313001
2.) Baro Masi Bar and Restaurant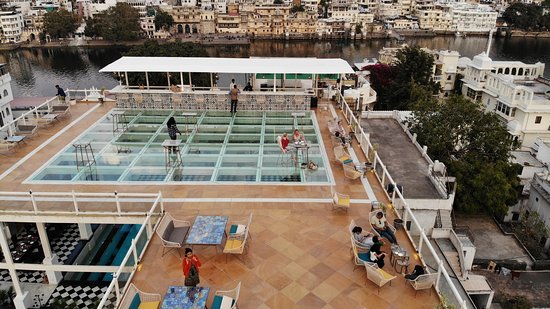 Credits: TripAdvisor
Baro Masi is located on the rooftop of the beautiful Udai Kothi hotel in Hanuman Ghat. It's an awesome place for sunset cocktails. This restaurant was launched in 2019 and is peddled to have one of the chicest bars that the city has been waiting for. It has a glass floor that overlooks the hotel pool, a fantastic tapas cuisine, unique trademark cocktails, and beautiful lake views, all at prices between INR 300 to 500 for most beverages. And the best for all those late-night party lovers, this restaurant stays open till the wee hours of the morning. Must try their Kothi Cup Cocktail- a combination of guava, pepper, and lime diluted with tequila.
Address: On Udai Kothi, Chandpole Road, Hunaman Ghat- Udaipur.
3.) The Artist House: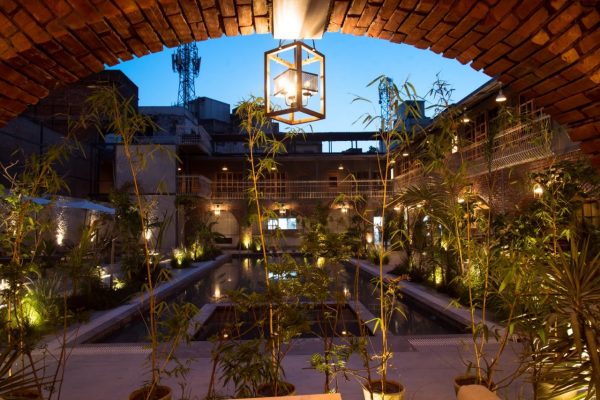 In a refurbished and converted 80-year-old theatre structure in the Old City, a trendy new hangout for creative folks. With DJs on Friday and Saturday evenings, it attracts a young, youthful crowd and is the greatest location to party in the city. There is also a lounging and bar area next to the pool where a wide selection of wines and beers, as well as cocktails, are offered. A glass of Indian wine would cost you around INR 475, whereas a glass of imported wine will be around INR 600 exclusive of the taxes and the bar stays open till 11 p.m.
Address: Near Ashoka Cinema, Surajpole- Udaipur.
4.) The AmBar Restaurant: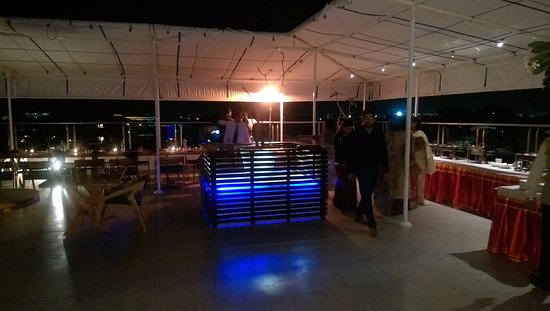 Credits: TripAdvisor
Located on the rooftop of Hotel Raj Darshan, AmBar Restaurant is yet another scenic beauty you may wish to spend your evening at. Enjoy the view of Swaroop Sagar Lake, north of Lake Pichola, this open-air rooftop bar of Hotel Raj Darshan in Hathipole. This restaurant is open till 11:30 PM.
Address: Hotel Raj Darshan, 18, Pannadhay Marg, Hatipole, Silawatwari- Udaipur.
5.) Upre Restaurant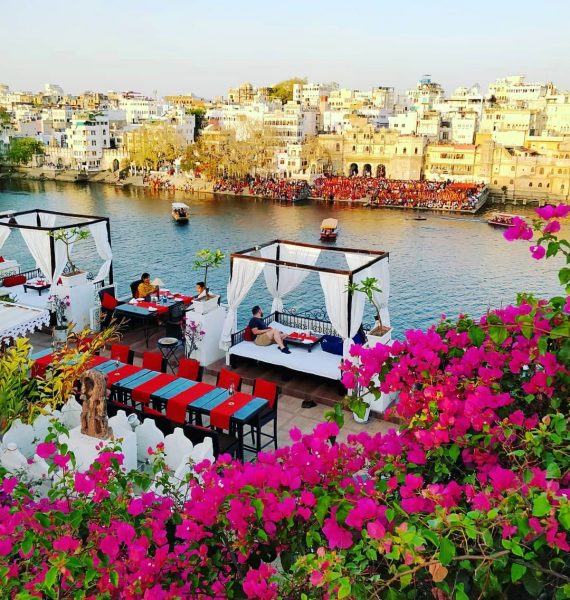 Credits: lbb.in
Upre Restaurant has an amazing setup from where you can enjoy spectacular views overlooking the City Palace, The Lake Palace, stunning ghats and a plethora of temples. of the city's City Palace and Lake Palace. Visit here just as the sun begins to set to take in the breathtaking views of the city. Visit here just as the sun begins to set to experience the spectacular view of the sunset. Now, when it comes to wining and dining, this place has some amazing international cuisines with scrumptious food and an exciting collection of wines and liquor. Upre indeed is a perfect place to go on a romantic dinner with your date.
Address: Lake Pichola Hotel, Near Hanuman Ghat, Chandpole- Udaipur.
Special Tips for a Night Out in Udaipur
Wine is very expensive at pubs and restaurants. It is better to stick to other sorts of beverages if you want to make your bill pocket friendly.
Although taxis are available at night, they may charge higher charges if you are commuting between 11 P.M. and 5 A.M.
The ideal time to feel the silence and serenity of this city is after 11 P.M. Take a stroll around the Chandpole Bridge to get that panoramic view of this majestic city whose beauty is reflected in the lake.
Unlike other states, the legal age of drinking in Rajasthan and Udaipur is 18, so please do keep a note of that.
Lastly, also note that drinking alcohol in public places is strictly prohibited, so please avoid that or you may be fined.
Hope this page was helpful for those planning to visit this beautiful city at night.