The idea of donating blood is still foreign to some people. When asked, "Have you ever donated blood?" the answer wasn't exactly yes, but no one was against the idea either. India is a country known for its generous and compassionate people, yet only 1% of our entire population donates blood every year. This results in blood scarcity, as cancer patients, accident victims, and surgical patients all require blood transfusions. In addition, certain fallacies regarding blood donation, as well as a lack of knowledge about the health advantages of blood donation, deter most people from donating blood.
Well, I recently got a chance to speak with Mr. Arpit Kothari, a notable person known to work for donating blood through his uncountable blood donation drives. Arpit works with a team of more than 1000 people, tirelessly working to supply blood to as many patients as they can. Being in this charitable and donation organization in Udaipur for more than a decade now, Arpit and his team have been a life saviour for patients suffering from the deathly Coronavirus. Since the first wave began, he is encouraging people to donate blood whenever they can to save the lives of people who are in dire need of it. So, not wasting further time with the pleasantries, let's listen to his journey of supplying blood to thousands of people in and around Udaipur and what's his story so far.
Tell me something about Rakt Data Yuva Vahini and how did you start the blood donation drives?
We started this organization in the year 2012, and we were five people who initially came up with the idea of helping people who needed blood. Dinesh Soni, Kamlesh Acharya, Dilip Sahu, Kapil Daya, and I were the first five people to start Rakt Data Yuva Vahini. It has almost been a decade since we started the organization, and now, we have a team of 13 people who are actively involved in looking after the major cases and a team of 1000+ volunteers who work selflessly with us every day. Initially, we made a small group on WhatsApp to identify the blood requirement and for the planning of blood donation camps in and around Udaipur. We have a large tribal group or community residing in the remote areas of Udaipur, and they have no idea where to go or whom to reach if they need blood. Thus, it became my goal at that time to raise awareness about blood donation and supply.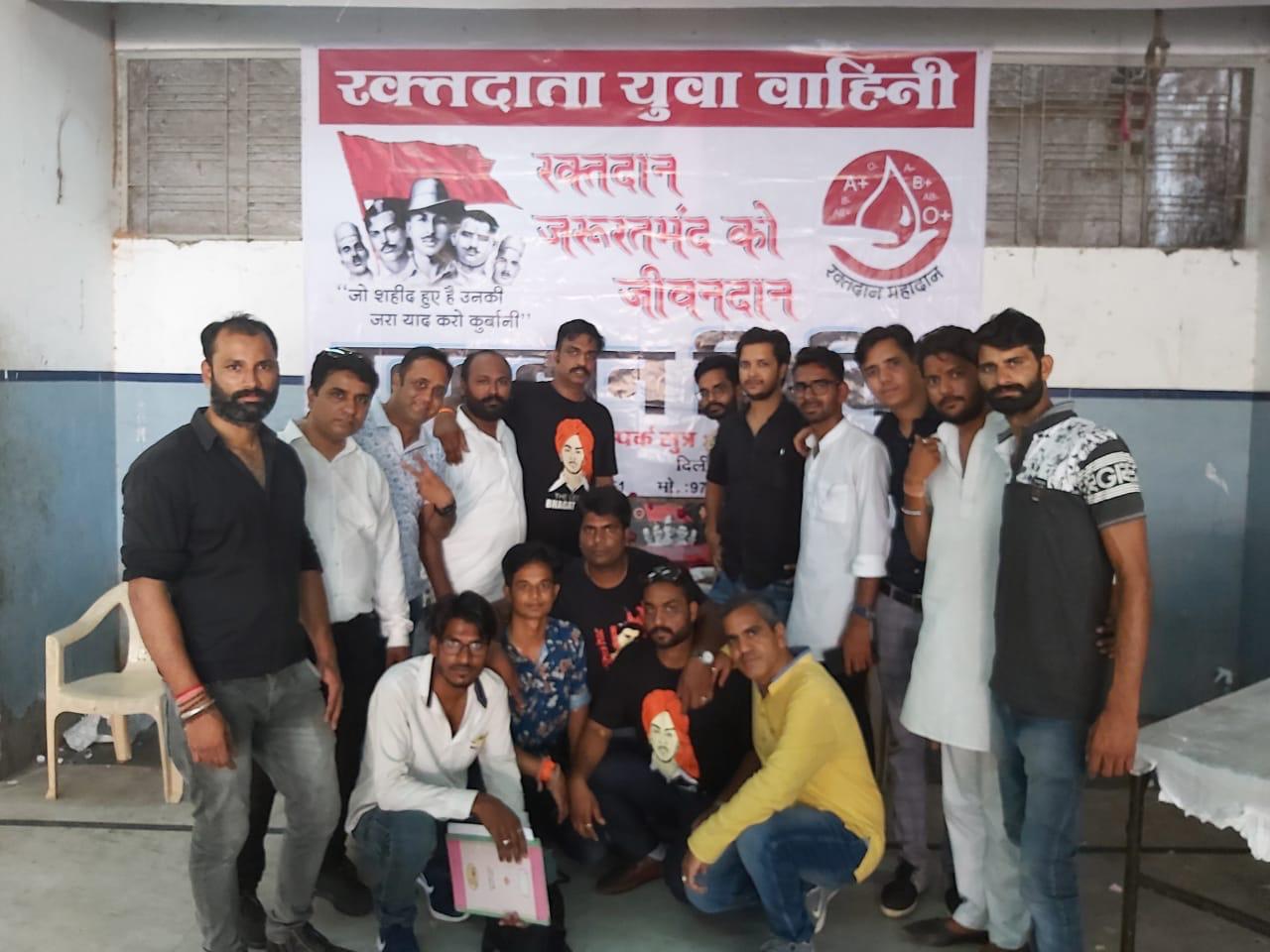 What encouraged you to start a blood donation service?
Seeing the shortage of blood in Udaipur and listening about the tribal groups as well as people migrating from villages in search of blood motivated me to reach out to them and help find blood without any hassle.
How many people do you reach recently, and what is the number of regular blood donation drives you have executed so far?
As I said, we started at a very small level, so back then, our team could hardly reach 30 to 40 people a month who were willing to donate blood. However, if I compare that number with the recent statistics, it is surely 10 to 15 times higher than what we used to get earlier. Fortunately, we are now able to get at least 20 cases per day on average. With the support of everyone, our organization has grown immensely. Earlier, we were connected with one or two blood banks. Now we can proudly say that Rakt Data Yuva Vahini is the only organization connected to seven blood banks in Udaipur, which is the total number of existing blood banks in the city.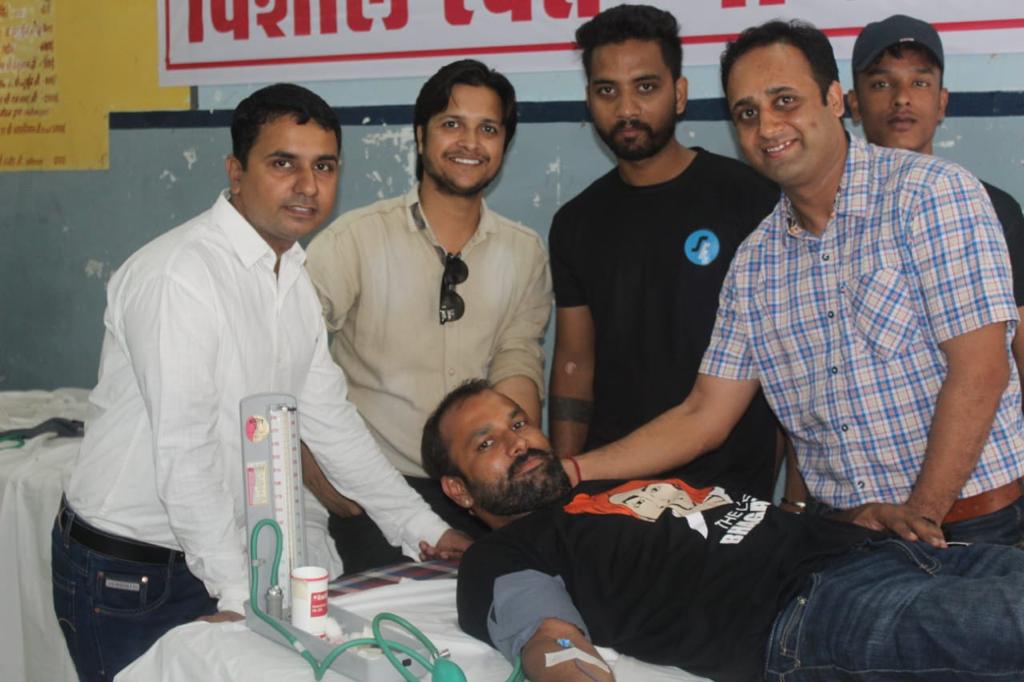 How do you conduct regular blood donation camps, and what is the response so far?
We conduct two types of campaigns; one is the regular blood donation drives, and the other is live blood donation. Well, to talk about the current scenario, we are not having a larger number of turnoffs with the blood banks in the city. However, we are fulfilling the daily blood requirement through Live Blood Donations. Our donors are aware of our urgent requirements and are always available for help whenever asked.
The negative group is hard to store compared to the positive group, and it has a less storage period, which is why we mostly prefer live donations for negative groups. I would thank the donors associated with us, especially those who have donated blood even after midnight.
If we talk about the current scenario, how have you helped the Corona patients, and what was the success rate?
Honestly, people weren't aware of blood donation when we started in 2012, but after the influence of social media and city-oriented platforms such as UdaipurBlog, we are able to get more requests for blood donation. It has been an absolute honour to say that every year we are able to give 4000+ units of blood, both regular blood donation camps and live donation camps. I am proud that Rakt Data Yuva Vahini is the only organization that has conducted blood donation camps outside Udaipur, especially in the tribal belts and rural areas around the district. We have worked very hard for plasma donation, especially when it comes to finding the right blood type. People from Udaipur and beyond had reached out to us for plasma (when the practice was in use) even after midnight, and our donors and team members never faltered a step to reach them as soon as possible.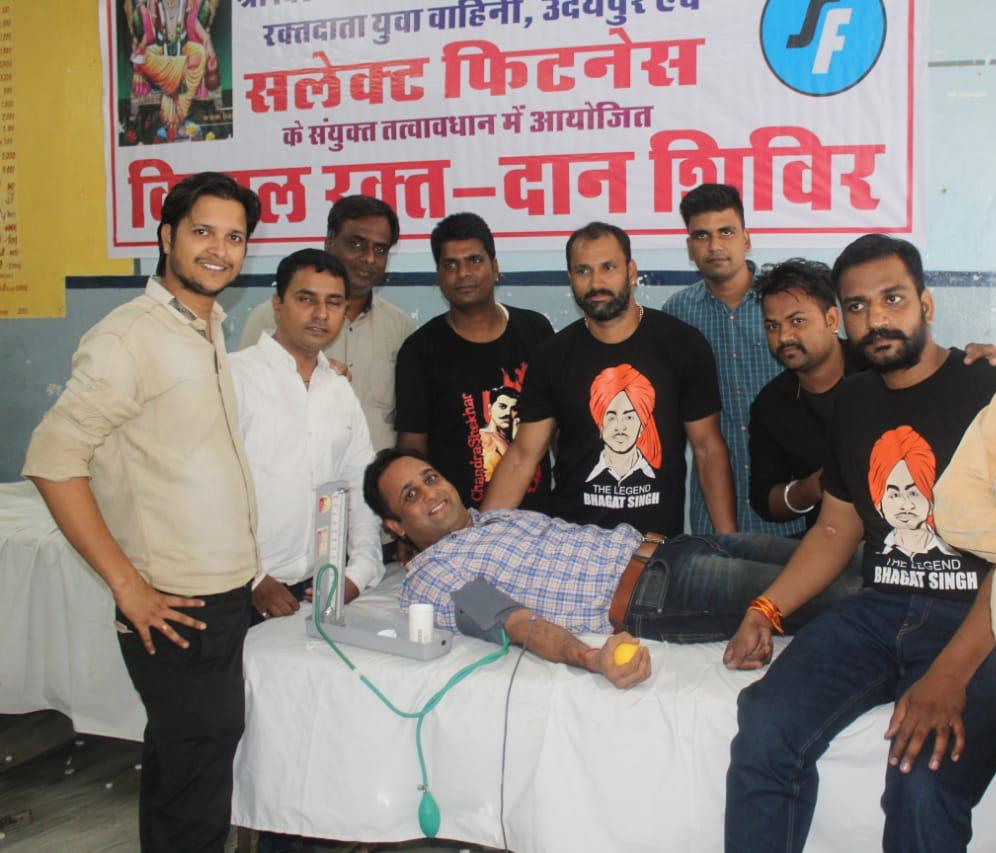 What is that one incident that inspired you and encouraged you to keep working for blood donation?
I have conducted a lot of camps in many locations in Rajasthan, and there is an ample number of incidents that have inspired me to keep working for the selfless and noble cause. To tell you one incident from so many would be hard for me, but I am going to say that the passion and willpower of people in Sadri have blown my mind. There was not a single family or member of the village that did not donate or come forward to help when we went to the blood donation camp. Seeing those people and their passion for helping others without any awareness inspired me the most.
What are the myths about blood donation, and how do you deal with them?
A lot of people are afraid that donating blood would cause them fatigue. They even come up with the worse and say that they would die if they donated blood. It makes me sad to hear that most of us are unwilling to help others, even if it's for a good cause. However, to answer the question, I would say that there are many myths associated with blood donation, and all of them leads to one thing that is "What if we die or catch some other disease?" but let me tell you, by donating blood you are saving yourself. In fact, donating blood makes you stronger and helps you fight deadly diseases in the future. After you donate blood, your blood becomes thinner, and it starts producing new cells, making you even healthier.
What message would you like to give to our audience?
I would like to say that you donate blood whenever you get a chance and try to be someone's hero! We can see the visible demands such as accident cases, pregnancy case, etc., but we don't know about the invisible demands of blood, such as children who are suffering from thalassemia. They require blood every 15 days or a month, depending on the severity of the condition. Around 400 children in Udaipur are suffering from thalassemia, and they do not have access to blood. It is my dream to help those 300 to 400 children who are going through this challenging disease alone and provide them with a constant source of blood supply so that they can keep up with their lives.
So, I request people to come forward and donate blood for these children so that they can have a beautiful future.