Weddings are thoroughly planned in Indian families because it is one in a lifetime event and who doesn't want to make it an unforgettable memory. In India it is not only the Bride and the Groom that enters into a beautiful bond of life but here it is considered as an amalgamation of families.
Season of wedding and celebration is approaching and at such times the first thing to worry about is to get the banquet hall. The most cumbersome task is to call each and every venue meant for weddings and look for their prices and amenities. On the top of that, if you are not even from the city, then it is technically impossible to look for good halls everywhere. Not to forget that venue fixing is not the only thing, you would have other things to sort out as well. And not only the marriage celebrations but also for other events and conferences, the major thing to worry about is the banquet hall.
So, here we present the list of the best and budgeted halls that will be appropriate for any of your personal or professional occasion.
The Mewar Udaipur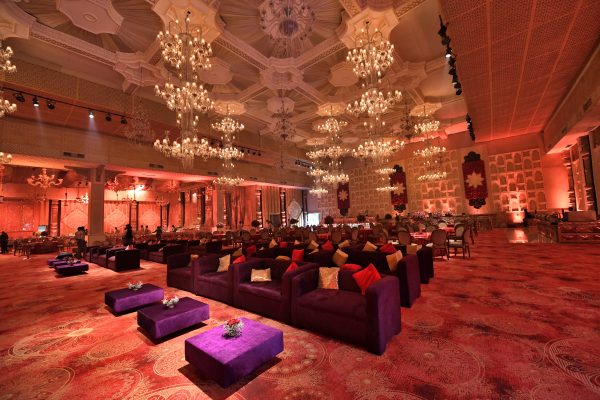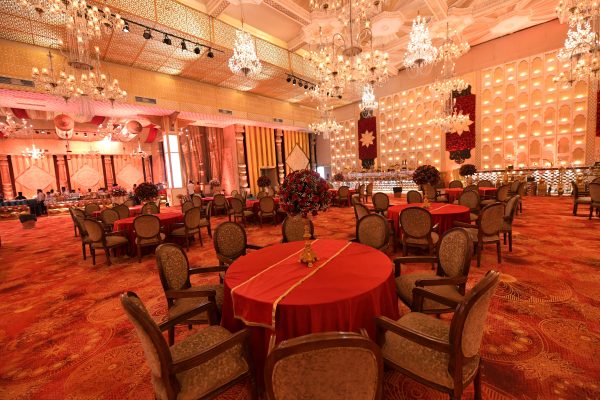 Rajasthan's biggest banquet is a perfect place for lavish weddings, corporate events and professional conferences. The plethoric opulence of the place offers a luxurious canvas to transform your dream wedding into a reality. The structure is built upon royal architectural inspiration and offers a remarkable experience to its guests. The interior is undoubtedly one in thousands, with an enormous floor area to accommodate 1200-1500 people.
This place is one of its kind, offering first-class amenities and unmatched services at very nominal rates and is indeed the first choice of wedding and event planners.
Contact: 7891786000
Address: Opposite Shilpgram, Fateh Sagar Road, Udaipur, Rajasthan, 313001
E-mail: themewarudaipur@gmail.com
Blu Feather Hotel and Spa
Probably the best interior you can get in the city. The luxurious hall is appropriate for either corporate or social events. With a floor area of 2850 square feet, the hall accommodates around 80-90 people in a round table gathering and up to 150 people in the theatre setting.
Contact: 84482 85340
Address: No. 4, Pratap Nagar Road, Bhuwana Sukher by Pass, Udaipur, Rajasthan 313001
Hotel Ambiance
Completely equipped banquet halls will provide you with everything you would need at a wedding ceremony or a corporate event. Projectors, screens, a good internet connection, and all the added facilities that will make your event smooth and enjoyable. There are 3 halls in the Hotel so you need not worry if there's another event going on already. The halls accommodate 250, 300 and 350 people respectively and they would cost you around a lac if you want the hall alone excluding the meal.
Contact: 91166 23381
Address: Plot No. 8,100 Feet Road, Roop Nagar, Bhuwana, opposite the Occasion Wedding & Special Event Garden, Udaipur, Rajasthan 313001
Spectrum Hotel and Residencies
Spectrum is your one-stop solution as it offers a range of venues appropriate for any corporate or social occasion of yours. There are two halls available at the place, one of which accommodates around 250 people and the other one accommodates around 450 people. The cost of these halls will cost you 800 per person and 1000 per person respectively along with the required meals. The perfectly equipped and centrally air conditioned halls connected to the garden area will make your occasion memorable.
Contact: 73000 71954
Address: N.H. 76, Gram Barodiya, Village Kavita, Opposite Kavita Bridge, Near Thoor Ki Paal, Udaipur, Rajasthan 313001
The Fern Residency
The hall is an ideal location for people who want to host their corporate meeting comfortably. The latest meeting and AV equipment will take a large burden off of your head and will keep your event uninterrupted. There is a dedicated area for dining and pre-function needs which make it all hassle free and your event memorable. This Lavish hall accommodating 300 people will cost you around a lac.
Contact: 0294 309 9000
Address: Plot No 1, Madhu Nursery Compound, Hiran Magri, Sector 3, Near Sewashram Flyover, Udaipur, Rajasthan 313001
Oriental Palace Resorts
Whether you are looking for a corporate gala dinner, client meeting or a personal get together, the hall will be appropriate for all kind of occasions. The hall accommodates 200 people at a time and will cost 21000 Rs. The perfect venue for any kind of social or corporate events will make you feel relaxed about your event.
Contact: 91-294-2411238
Address: Udaipur Main Road, Subhash Nagar, Udaipur
Hotel Valley View
Two halls are available at the place. One is designed for less number of people and other is for more number of people. The theatre style hall will accommodate around 300-350 persons and the other one will accommodate 100-120 people and the cost of these halls are Rs. 51000 and Rs. 25000 respectively excluding the meals. These halls are well equipped with Air conditioner, well lighting and all the necessary elements to make your event memorable.
Contact: 81071 72222
Address: Plot No.10, Airport Road, Nr. Maa Gayatri Hospital, Pratapnagar, Udaipur, Rajasthan 313003
Bhairavgarh Resort
From small meeting rooms to the big sized conference hall, you get everything here. The grand hall is designed in such a way that it focuses on every detail of the occasion, no matter if it's a corporate event or a social event. It accommodates around 100-150 people at a time that will cost you around Rs. 40,000. The hall will bring a lasting impression to your meeting or celebration.
Contact: 073400 47470
Address: Maharana Pratap Khel Gaon, 200 ft Road opposite R.T.O, Bhuwana, Chitrakoot Nagar, Udaipur, Rajasthan 313001
Hotel Lakend
Basant Kesar Banquet hall at Hotel Lakend offers an environment-friendly atmosphere in order to conduct successful events and conferences. Equipped with speakers, air conditioning, and well lightning will provide a seamlessly perfect meeting or event. It has the capacity to cater to around 200-220 people at a time and it will cost you Rs. 75000 plus taxes.
Contact: 0294 243 1400
Address: Fatehsagar lake shore, Alkapuri, Ambamata, Udaipur, Rajasthan 313001
Q Hotel
Be it a wedding, a symposium, conference, training module or a board meeting, hall at Q Hotel has everything covered. The business-friendly amenities and the classy interiors assure the success of your event. The hall is equipped with various facilities such as mike, podium, internet, charts, boards, Television, etc. The small hall will accommodate around 100 people and the large hall around 200-250 people. These halls will cost you Rs. 13000 and Rs 25000 respectively excluding meals.
Contact: 080033 37337
Address: 2-A, New Flora Complex, Near New Pula Bridge, Fatehpura, Udaipur, Rajasthan 313001
Amantra Comfort Hotel
This one is the preferred destination for corporate meetings, incentives, and exhibitions. Along with that, it is also perfectly suitable for social functions, celebrations, get-together, meetings, and functions. It is equipped with ultra-modern audio-visual conferencing equipment. The Lavish hall accommodates around 150 persons and will cost you around Rs. 15000.
Contact: 080033 31188
Address: 5-B, Opposite Sahelion Ki Bari, New Fatehpura, Udaipur, Rajasthan 313001
Raghu Mahal
Raghu Mahal is quite an appropriate place for casual get-togethers and small cozy functions. It accommodates around 50-60 people at a time and gives a warm experience to the guests or business associates of the event. It is equipped with all the things you would need during your event so that it could run smoothly and uninterrupted. The price for the hall is around Rs. 6000 which makes it quite affordable.
Contact: 0294 242 5690
Address: Saraswati Marg, Kumharon Ka Bhatta, Central Area, Udaipur, Rajasthan 313001
We have made the preparation of your occasion a bit easy. Now all you need to do is get ready for the big day because the hassle of the venue has been taken care of. If you think we have missed anything from the list, please share it with us in the comment section below.