Lakshyaraj Singh Mewar of Udaipur, on his birthday on 28th January, commenced a unique 'Go Green' initiative called 'Vriksh Hi Jeevan Abhiyaan' which has earned him the third Guinness World Record in just under 10 months.
Lakshyaraj is the youngest member of the former Royal Family of Mewar and a Trustee of the Maharana of Mewar Charitable Foundation, Udaipur.
During the 'Go Green' campaign, thousands of school students, Indian Army personnel and citizens from all walks of life participated and planted 4035 saplings varies from Amaltaj; Srahdana; Gulmohar; Kesiya Shayma in less than 60 seconds.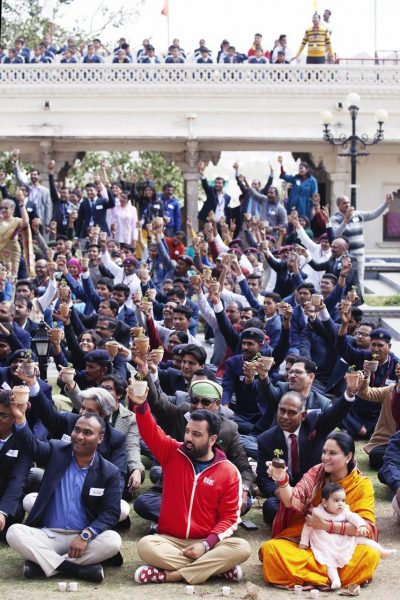 The previous world record for most saplings planted in 60 seconds stood at 2000 but today's unique initiative in Udaipur by Lakshyaraj has broken the previous record.
'Go Green' highlighted Lakshyaraj Singh's idea for a cleaner and greener tomorrow with more saplings being planted by the citizens themselves.
Speaking on the occasion he said, "The focus has always been to give back to society. And caring for Mother Earth should be a priority for each one of us so that we are able to provide a better tomorrow for the generations to come given the current challenges of global warming, ecological imbalance and various natural calamities which have resulted due to man-made misadventures."
This is his third Guinness World Record; the first being 'Vastradaan' which witnessed the collection of 3,29,250 clothes for donation to the needy. It was followed by the second Guinness World Record to Inspire Education wherein 20 tonnes of stationery items for students were collected within 24 hours.
Lakshyaraj Singh has created awareness on several social issues related to the rural and urban populace in the region. He has conducted campaigns for numerous social causes to create awareness in the field of education, health, environment etc., in order to improve the standard of living and quality of life of the local people. He has also worked on various social projects in association with NGOs like the Sauhardya Charitable Trust.
Lakshyaraj Singh Mewar is the driving force behind the growth story of Udaipur. He is the scion of the oldest dynasty in the world. His unconditional contribution towards the hospitality and tourism industry and society at large is widely recognized.  He lives by the values of creating equal and fair opportunities for growth and sustainability. Mentoring the young mind is at the core of his beliefs.
At HRH Group of Hotels, as the Executive Director, he has been leading innovations and disruptions in the hospitality industry.
He has worked with stakeholders of the travel and hospitality industry to ensure that Udaipur remains one of the world's most desirable destination. His unique management style and hands-on approach makes him a very approachable leader and the media has hailed him as the 'People's Prince'.