Dr Arvinder Singh, a leading practising doctor from Udaipur City, entered the World Book of Records for obtaining the maximum number of academic and non-academic degrees, diplomas and certificate. Dr Arvinder Singh, CMD and CEO of the Arth Group of companies in Udaipur, was awarded by Hr. Dr Kiran Bedi (Former Lieutenant and Governor of Puducherry and first IPS lady).
Dr Singh has 123 degrees, certifications, and certificates under his belt, 77 of which are academic and 46 of them non-academic. All these degrees and certifications were earned between 1989 and 2022 in a variety of sectors.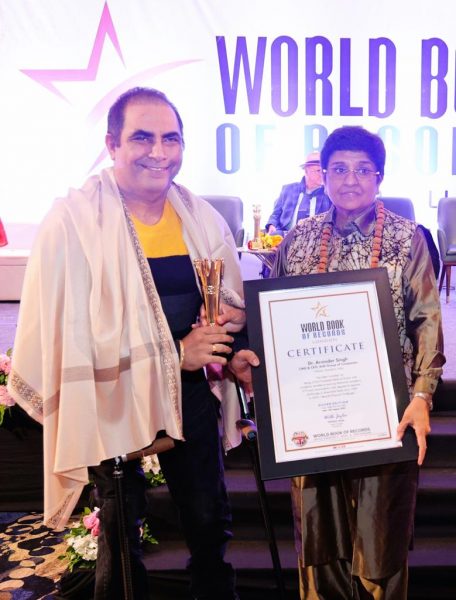 Dr Singh was also recently recognised for his outstanding work in the field of cosmetic dermatology by Chief Minister and Health Minister of Rajasthan. He is Rajasthan's first and only international board-certified Cosmetic Dermatologist and Aesthetic Physician.
Dr Singh earlier made history in 2009 by becoming the first Indian doctor to top IIM. He is said to be the first doctor to know about management, law, cosmetics, cosmetic dermatology, and digital marketing in addition to medical sciences.
"In 2008, he received a Rs 90 lakh annual package offer from Scotland while he was a student at IIM, but he declined it and chose to work in India to avoid brain drain from India". According to Dr Singh's representative, he holds a record in scuba diving in Maldives and has also earned a gold medal in Pistol shooting in Para Category in Rajasthan.
By utilizing the best and most up-to-date technological advancements available, Dr Arvinder Singh distinguishes himself from the competition and establishes himself as the best Cosmetic Dermatologist and Aesthetic Physician. This makes him the best because his results are the most realistic-looking and make his patients look amazed and content. Being a specialist in cosmetic dermatology.
Whether it be scars removal, acne removal, or pigmented lesions removal, Dr Singh's expertise in this area of dermatology is what sets him apart. The look of wrinkles, premature aging, fine lines, skin pigmentation, scars, and other lesions can be improved by dermatological procedures such Botox, dermal fillers, face rejuvenation, thread, and anti-aging therapies, of which he is an expert.
Dr Singh has started the Institute of Aesthetic Medicine, Cosmetology and LASER (IAMCL). His institute is accredited by London, United Kingdom and registered with USA. Dr. Singh told that students qualified from IAMCL will be having wide job prospects and self-employment opportunities at national and international markets. Depending on their qualifications, Medical and Non-Medical students may apply for Diplomas, Fellowships in Medical Cosmetology, Aesthetics and Medical LASER.
Moreover, the all-in-one Dr Singh also holds diplomas and credentials in cosmetic dermatology, aesthetic medicine, aesthetics and clinical cosmetology, and medical laser from Oxford, the American Association of Aesthetic Medicine, the Canadian Board of Aesthetic Medicine, the International Academy of Sweden and Germany.
This incredibly gifted and skilled doctor has made a name for himself as a Cosmetic Dermatologist and elevated Arth Medical to a new level thanks to its cutting-edge amenities that meet international standards.