It seems impossible to lose 6 inches of fat in just 4 hours. Arth Skin and Fitness uses the science of beauty to make the impossible possible. For the first time in Udaipur, Arth Skin and Fitness has been able to achieve this massive milestone using FDA and CE-approved non-invasive fat reduction methods.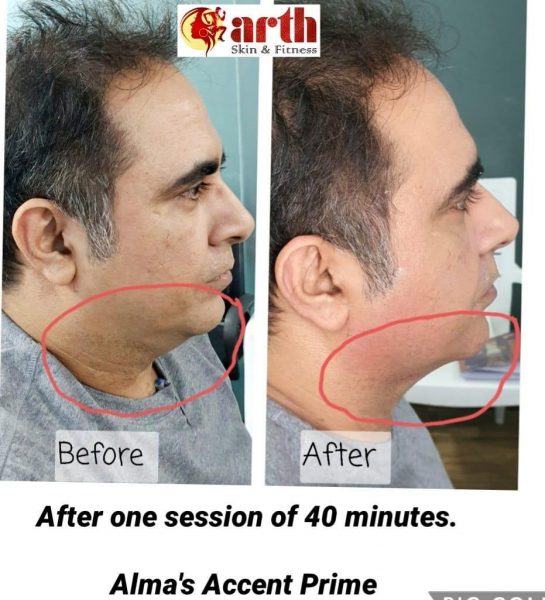 Fat can be stubborn and can cause humiliation by forming fat pockets in embarrassing places. Fat resistant to both exercise and diets, making it even more difficult to lose weight and get a toned body. These fat pockets can appear anywhere on your body, including your face and tummy, leaving an unattractive appearance. Arth Skin and Fitness offers the most effective non-surgical method of fat removal. Arth delivers the best body shaping and face shaping services in Udaipur by combining cutting-edge technology with the medical knowledge and expertise of leading clinical cosmetologists.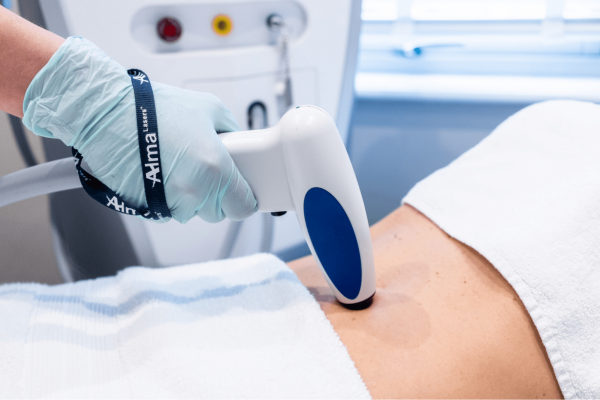 What is body contouring/ body-shaping
It's a technique for removing excess fat and skin and reshaping a specific location of your body. It is a fantastic technique to sculpt your figure. The best part about body contouring procedures is that they allow you to target specific areas where weight loss methods like exercising and dieting fail. It's a non-surgical and non-invasive method of achieving your ideal figure and it's like customizing your physique to your specifications
Arth Skin and Fitness offers a variety of options for removing stubborn fat pockets without any needles or surgery!
Accent Prime
Alma lasers use a proprietary combination of longitudinal and transverse waves to target fat cells specifically while causing minimal damage to the surrounding tissue. Fat cell membranes are further broken by transverse wave vibrations, resulting in slow breakdown and release of stored fat. The lymphatic system is responsible for removing fat cells from the body. Simply put, the heat generated by this procedure breaks down fat cells, which are then excreted from the body via the lymphatic system. This method in no way harms any surrounding skin or tissue. THE BEST PART OF THIS PROCEDURE IS THAT 2-6 INCHES OF FAT CAN BE REMOVED IN JUST ONE SITTING!
Take a look at what the Doctors have to say about the non-invasive fat reduction services that they have taken at Arth skin and fitness
Laser Lipolysis 
This FDA-approved procedure is popular among clinical aestheticians because of its ability to effectively remove fatty tissues. It's a non-invasive procedure that tightens your skin and improves your body form. Arth Skin and Fitness offers the most cutting-edge technologies for non-invasive and painless fat removal. It's a rapid way to lose fat with no downtime. Nationally and internationally recognized cosmetologists at Arth use this approach to give you the body form you desire. 
Choose Arth's non-invasive Fat reduction methods over traditional methods of Fat removal
No downtime: No downtime

or recuperation period, so you may go about your business as usual after just a few hours of your session.

No scars or abrasions: No scars or abrasions

 left behind because these methods are non-invasive, minimally invasive, or non-surgical. Meaning, unless you tell someone, they won't know you had the procedure!

No sagging of the skin:

It's common knowledge that skin loosens and becomes unsightly following liposuction. Arth's treatments tighten your skin at the same time, ensuring that your beauty is not jeopardized. 

Skin tightening:

Arth skin and fitness uses strategies that are both effective and desire-driven. Its innovative technology ensures that you get the best outcomes possible. The procedure of skin tightening is performed using Accent prime's radio frequency technology, which ensures the creation of new collagen that ultimately enhances skin thickness and alignment, giving you better-looking skin that is visible and noticeable. 

Less painful:

All of these techniques are popular among consumers because they are more convenient and much more pleasant than older approaches. All of these procedures provide you with the best possible results without causing you any discomfort.

For skin tightening:

Arth Skin and Fitness employ Alma laser technology, which uses dielectric heating to provide homogenous heat throughout the targeted region using the strength of radio frequency. This FDA-approved technology from Alma Lasers provides successful and desired outcomes by inducing the FDA-approved technology from Alma Lasers has established clinical achievements and flawless safety records, and ensures effective and desired results.
Why Arth Skin and Fitness is the best aesthetic clinic in Udaipur for body contouring and skin tightening
 Arth Skin and Fitness applies

ACCENT PRIME's

sophisticated technology to provide the client with desired results. It's Alma's top-of-the-line body sculpting, skin tightening, and aesthetic enhancement workstation. It combines the power of radio frequency and ultrasound to provide effective and long-term outcomes.

The expertise of the best aestheticians and cosmetologists is used to ensure that this procedure is safe and comfortable.
Arth Skin and Fitness offers outstanding face shaping, body shaping, and skin tightening services. 
When you choose Arth, you are choosing desired results and quality.
For more information, visit:
https://arthskinfit.com/body-shaping/
https://drarvindersingh.com/face-shaping/
Address: 3rd Floor, 4C Arth Building, behind Bhartiya Lok Kala Mandal, Madhuban, Udaipur, Rajasthan 313001
Phone Number: 8669855945
Email ID: Info@arthskinfit.com