Winter season has almost set off and summers are approaching. With this we welcome the festival of colours and happiness. It is ecstatic that we are locals of the city of lakes. Holi in Udaipur is celebrated in the best possible manner.
Whether it is about the streets of old city or Fateh Sagar or an event, Holi this year is going to be full of enthusiasm. After 2 years of Covid-struck India, there is hope amidst people to celebrate the festival as always.
We are sure you are excited. But have you thought where would you celebrate this year?
There are number of happening events coming up for Holi in Udaipur. The patches of colours and water splashes will be seen in every corner of the city. This time Udaipurites are surely going to have a tough time to decide which party to go to.
But do not worry, we have got your back. And if this is your first time in Udaipur, we have some great suggestions to make your first visit memorable as well.
List of Holi Parties in Udaipur
1. DREAM HOLI 2022
By adding flavour of carnival theme, DYD EVENTS is all set to celebrate Holi in style. Live performance by DJ helltrop, mud pool, rain shower and colour shower will enliven this party. And for all the foodie souls, there will be lip smacking food stalls and beverages to relieve their cravings.
Address: The Divine Hills, 150ft, Sethji Ki Kundal, Udaipur
For bookings and queries: +91-7425041114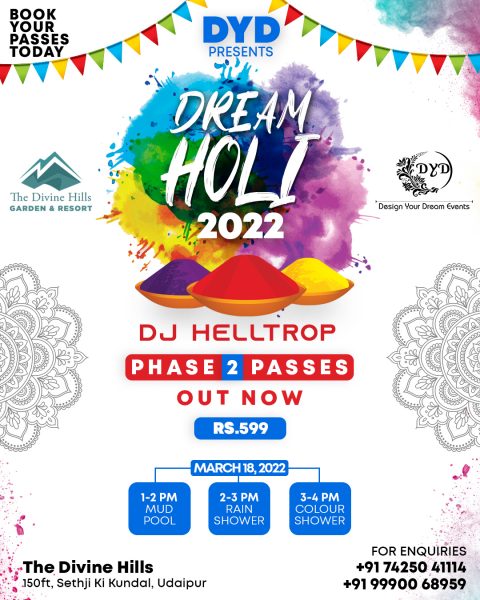 2. ORU HOLI CARNIVAL 2022
Oru Pools is ready to welcome us all for the Holi Carnival yet again this year. This time the celebration is going to be the quirkiest with live music, a feel of La Tomatina, unlimited food, pani puri shots and much more.
Address: Jeevantara Resort & Spa, NH 8, Bypass Goverdhan Vilas
For bookings and queries: +91-9588062419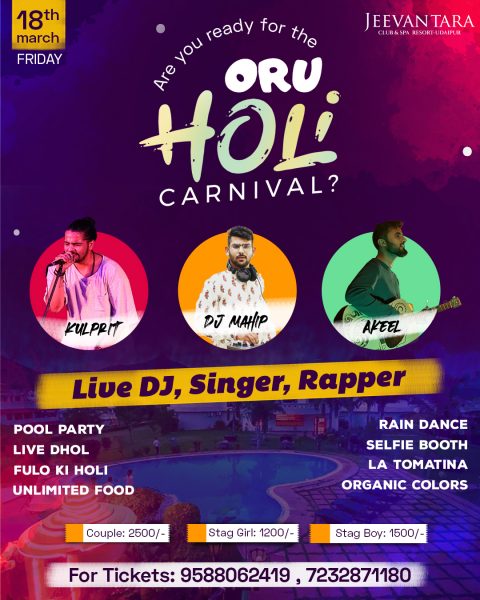 3. HOLI-WOOD 2022
You can even tell by the name that this event ensures one thing and that is crazy celebration. Dear music enthusiasts, get ready to party all day with DJ Aseen supported by DJ Neet with dhol and rain dance. And do I need to mention the food treats?
Address: Bamboo Saa Resort, Near Sajjangarh Biological Park
For bookings and queries: +91-7528045834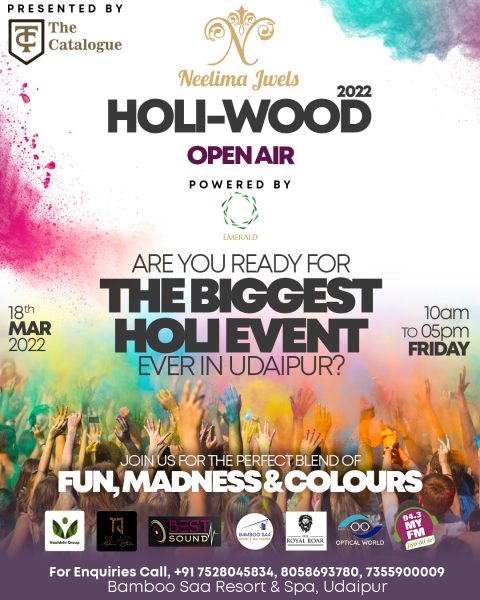 4. RANG BARSE 2022
Are you the one who is a party animal but looks for organic colours wherever you go for a party?
Then Rang barse event for Holi in Udaipur is what you look for. With organic colours, live DJ, theme décor and unlimited food to pamper your stomach, it is all prepared to make your Holi worth the memories. Already started planning for a party with folks, right?
Address: Green Royal Resort, Purohito Ka Talab, Amberi
For bookings and queries: +91-9001212999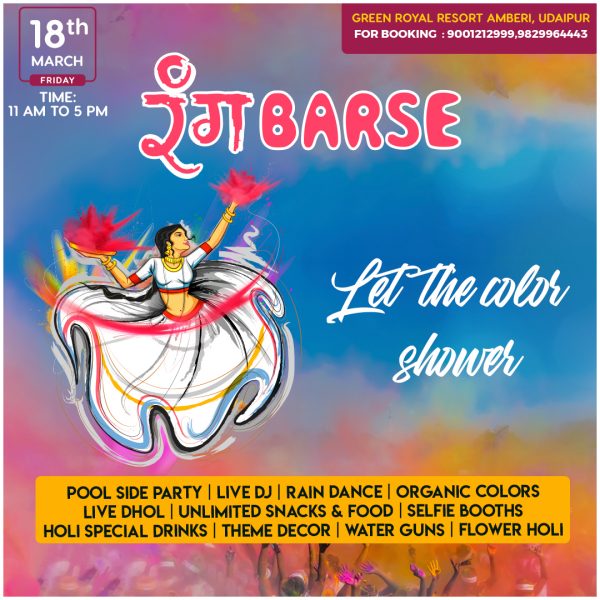 5. HOLI PARTY BY CARAVAN TRAIL
To immerse you in the pool of colours, Caravan trail is organising an amazing event in the city. With mini party pools, live DJ and a variety of food delicacies, they are all set to serve you right this Holi.
Address: Caravan trails, Jungle Safari Road, Dudh Talai, Udaipur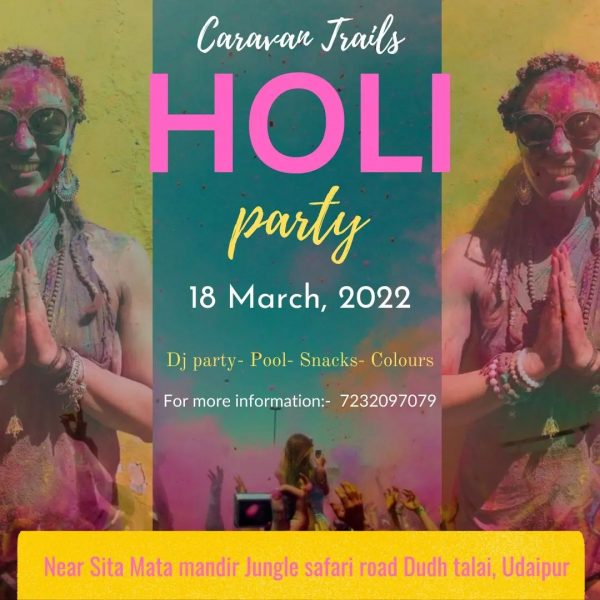 6. RANG HOLI
If unlimited food, non-stop DJ, energetic dhol and limitless fun is what to look for, Rang Holi is going to be your choice. And what's more is that you are going to get organic colours. Organised by Fireflydo, this is going to be one of the best Holi events held in Udaipur.
Address: Vijay Villa Resort, Near Old Toll Naka, Dakan Kotara, Udaipur
Summing Up
In India, festivals are all about unity and love. And Udaipur is a versatile place. It is host to tourists from all over the world which makes the festival of colours even more zealous. It is the perfect time to boast about the rich heritage in the form of distinctive occasions.
Holi is indubitably one of the most favourite festivities of people. We look forward to celebrating with our families and friends. So, there is no chance that we will not enjoy Holi in 2022.
This year it is going to be brighter and louder than ever! The enthusiasm of locals and the eagerness of the tourists is what will add to the excitement.
So, which party will you go to this Holi to create another year of colourful memories?
Curated by- Vaishali Jain