If someone asks me another synonym for 'Heaven', I would instantly say chocolate. No matter what the question is, the answer is definitely chocolate. Regardless of what your age is, chocolate can be your best friend anytime and anywhere. Whether you are sad, happy, celebrating, lonely this is that one thing which will always be your companion. Chocolate is widely known for its feel-good factor which is why your mood is instantly lifted as soon as you put a piece of this incredible thing in your mouth.
Enough has been said. Now without having you drool anymore, here's the list of chocolate delicacies in Udaipur you should go for right now if you call yourself a chocolate lover.
Chocolate Avalanche at The chocolate room
After you try this one you would know why it is named after an Avalanche. Chocolate Avalanche is where different forms of chocolate are kept on one another, flavors of chocolate blasting inside your mouth giving your tongue all types of pleasure. Chocolate mousse, Chocolate brownie, pastry with Choco sauce and garnishing of a chocolate stick all in one would be pretty enough to satiate your chocolate fantasy for a long time.
Address: 14-C, Madhuban, ICICI Bank Lane, Panchwati, Udaipur
Chocolate dream sandwich at Mr. Sandwich
Melted dark chocolate, milk chocolate, Dark and white chocolate chips presented so wholly in front of you that you wouldn't even be able to see the bread on the plate. And the first piece of this breathtakingly delicious sandwich will be your direct entry to the heaven. I bet you wouldn't be able to resist having at least one piece of it when you see chocolate dripping from the sandwich as soon as you lift a piece of it. Chocolate inside, chocolate outside, chocolate all over, sounds dreamy much right?
Address: Vinayak Complex, Durga Nursery Road, Ashok Nagar, Udaipur
Chocolate truffle at Le Cakery
The thick layer of chocolate covering the chocolate filled pastry and chocolate dripping from the edges of it. I don't know about you but I am here drooling just writing about it. Apart from this blissful truffle, you can try some more lip-smacking delicacies here like Chocolate donut, pie, mousse etc. You would not leave the place disappointed ever, that's for sure.
Address: 73, Chetak Circle, City Centre, Udaipur
Heyyy Hazel at The Tick Tock Café
Nutella lovers gather around. Now, did you think that the league will miss the great 'Nutella'? Heyyy Hazel is a shake bursting with cream and Nutella. The moment you take a sip, it would seem like Nutella is playing in your mouth and at the end of this tall glass, you will just be left craving for more.
Address: 2, Jyoti Nagar, Inside 100 Ft Road, Jain Transport Lane, Udaipur, Shobhagpura, Udaipur
Sin by goodfellas at Café Goodfellas
One thing is for sure, these names are as tantalizing as these dishes are. The best thing is kept safely in the last spot of the article. This is a perfect combination of cream, chocolate, Oreos, brownie, chocolate ice cream, chocolate chips, basically everything that you can ask for. The sweet pleasure that it will give you cannot be described in words.
Address: Adarsh Complex, Gulab Bagh Rd, opposite Vishnupriya Hotel, Old City, Brahmpuri, Udaipur
Jheel's chocolate frappe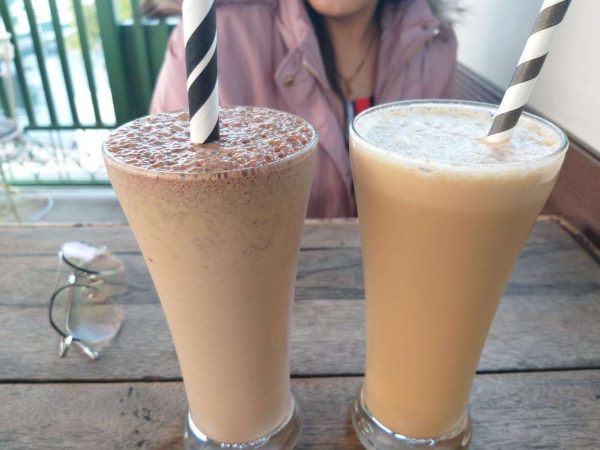 As a cold chocolate lover, you won't regret ordering this tempting chocolate frappe. This frappe is really creamy, thick and heavy for sure. You can taste authentic chocolate flavours with a light foam on the top. Enjoy it with the panoramic view of the city at Jheel Ginger Cafe. 
Address: 52, Jheel Guest House, 56, Gangaur Ghat Marg, Udaipur
London Bubble co.'s choco freeze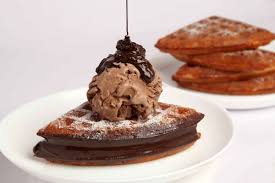 One more super star chocolate delicacy on the way. Choco freeze is loaded with chocolate. As it is a chocolate waffle sandwich, the stuffing is so chocolaty and then topped with chocolate ice cream. Grab this amazing chocolate delicacy from London Bubble Co. and enjoy at your fullest.
Address: Shop No.6, Shreyansh Complex, 100 feet Road Corner, Ayad, Udaipur
The list is strictly for faithful chocolate lovers. Normal people should keep a safe distance from all these sinfully sweet delicacies or you will end up gaining some unapologetic calories. Did I miss any fantastic chocolate dish here? If you didn't find your favorite chocolate delicacy above, mention it in the comment section or write to me at juhee@udaipurblog.com.