What are you supposed to do when you sit ideally at home and cannot indulge yourself with daily errands? You sit back and scroll the internet for as long as you want and use technology to its utmost capacity.
However, a lot of people are looking at technology and social media platforms as an opportunity to increase cybercrime. Cybercrime is increasing at an alarming rate, and this activity can fundamentally derail reputed financial institutions and corporates. This could result in a privacy breach of personal information as well as bring down a company's IT system in the blink of an eye.
Rakshasutra Foundation, started by Manas Trivedi, is working vigorously to eradicate these cybercrimes and protect people and institutions from this theft. Manas is a young lad, spreading awareness about the increase of cybercrime and ways to tackle privacy breach. Cyber expert Manas started the initiative as a preventative step to fight against cybercrime. He is on the go with "Cybercrime Free Rajasthan" mission that is a training and awareness program, ongoing in various states and districts. In context to the same, Manas has offered technical tips and suggestions to Police Officers and multiple employees from all over Rajasthan. In hindsight, Manas is providing practical knowledge and insights about the prevention and detection of crimes. Under the "Cybercrime Free Rajasthan" program, novel information concerning cyberlaw has been passed on to police officers, so that they have technical knowledge about the investigation. Additionally, students in schools and colleges are instructed about the safety guidelines concerning cybercrime.
Permission Granted in 18 districts
Founder of Rakshasutra, Manas Trivedi is offering technical advice related to cybercrime to the police as well as provide the latest information about the same.
Additional Director General (Police Technical Services), Sunil Dutt, has granted permission to Manas to spread awareness among the common population with the help of conducting Cybercrime Awareness Programme in 18 districts, namely Jaipur, Ajmer, Bhilwara, Alwar, Bharatpur, Sikar, Jhunjhunu, Churu, Kota, Hanumangarh, Ganganagar, Tonk, Banswara, Dungarpur, Udaipur, Pratapgarh, Chittorgarh and Rajsamand.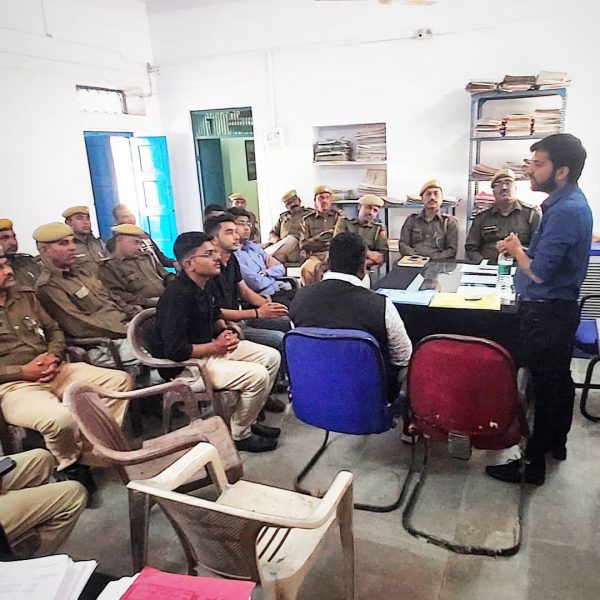 Manas and his team are providing training on topics such as public awareness about cybercrime, safe and secure online banking, online sexual harassment cases, safe mobile surfing, and phone call frauds. To take it further, Manas and his team will give a PowerPoint presentation and share awareness videos among the local population in all the 18 districts.
Beware of Cybercrime
According to Manas, in the current times crimes such as creating a fake Facebook account, try to gain the sympathy of others, emptying and hacking the whole account by becoming a social media friend, and taking money from bank accounts by sharing OTP, are increasing at an alarming rate. In this situation, there is a dire need to safely learn how to use the internet properly and determine its threats by identifying fake accounts. People need to be exceptionally cautious about what to post on social media and their presence online.
Apprehensiveness and Awareness is the Only Solution!
Vigilance and awareness is the key solution to stay safe from cybercrime. During and after lockdown, cybercrime has been increased to 300 per cent. An increase in cyber financial frauds such as Paytm fraud, e-commerce fraud, SIM swapping and card cloning has also taken a hike. Moreover, cases such as cyberbullying, molestation, and ID theft have significantly risen against woman and children. It is not appreciated or wise to get lured by spam calls and fraudulent messages, also don't share excessive information on Facebook or any other social media platform.
Manas has already launched an app for the safety of women. The young man came into prominence when he launched an application named "Rakshasutra" for women's safety. Any woman or girl who has the application can tap on the screen twice at the time of emergency, and an alarm will ring in the police control room. Through the Rakshasutra application, police can easily trace the woman's location and can reach there as soon as possible before things get worse. The app was further acclaimed by the former Chief Minister of Rajasthan.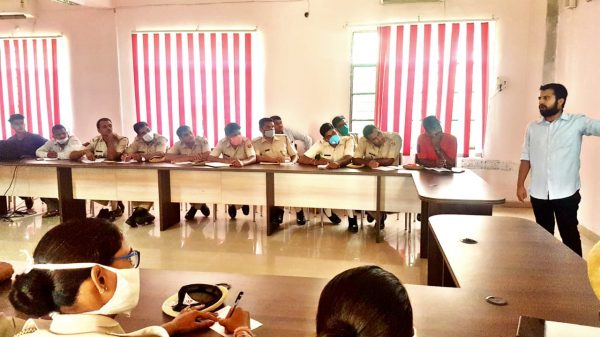 Intejam App by Manas acclaimed regionally
Manas Trivedi also created an app named "Intejam" during the course of the election. The application helped identify the posting or duty of a particular police officer at the polling station. The police got significant help from the same since they had no confusion whatsoever on a specific officer's posting.