Embarked on a journey from Kashmir to Kanyakumari – the full north to south stretch of India – Udaipur's Neetu Chopra was on a mission to spread the message of women safety.
Named as #RideForRevolution, Neetu took this journey on December 15 after the infamous case of Hyderabad gang-rape in which a veterinary doctor, riding an Activa, was raped and killed brutally by four men late in the evening, sent a shock to the entire nation.
Through this act, Neetu wanted to spread the message of women safety and importance of self-defence in a woman's life. She believes that it is important for the women in the society to be strong and come out of their safe zones.
With her 4600 km long journey, Neetu achieved the title of India Book of Record for "The Longest Ride on Activa by a girl" where she covered 10 states in 18 days while conducting self-defence sessions at 38 places.
The 28-year-old FreeFlying Eagle, as she calls herself, left home on an Activa, on December 15, 2019, to travel solo all the way to Kashmir and then to Kanyakumari, the southern tip of mainland India. She covered a distance of more than 7,600 km across India in 42 days.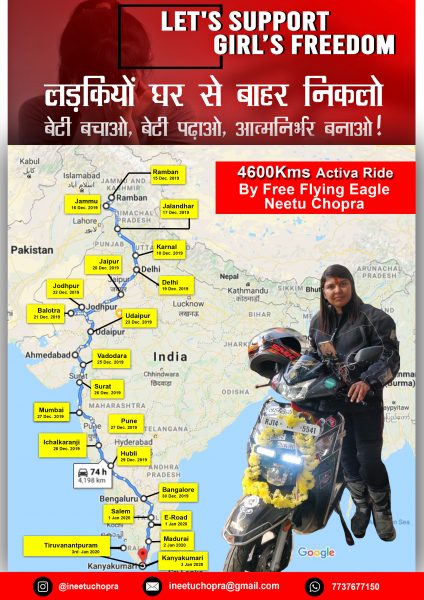 Neetu says that her purpose was simple and clear:
"People say that girls should stay indoors; they should not go out alone after dark. I wanted to prove them wrong. I want girls to move without fear."
She wanted to prove to the society that it can be done and that is the reason she travelled alone across the country to encourage girls to have confidence and faith in themselves.
Neetu, who has pursued her MBA, runs an event management company named Nitanju Events. She has also been a part of the National Cadet Corps during her college days therefore also an adventure enthusiast.
Neetu says,
"I know that every girl is not an athlete and she might not be physically strong, but they must be mentally prepared. They should not be scared when faced with a dangerous situation"
She did the journey from Madurai-Kanyakumari at night to prove that is was safe to do so.
During her trial run from Udaipur to Kashmir, Neetu realised that two men were following her on a bike near Pali. They kept honking to annoy her. Realising that she could not outpace them on a scooter, Neetu stopped the vehicle, took off her helmet and yelled at them till they left her alone.
After that incident, she realised that keeping some safety measures handy is important. So she got her helmet fixed with a visor which, if broken, would send a signal to the nearest ambulance service. Besides, Neetu also carried a Taser with her for self-defence throughout the journey.
Her live location was shared with the All Indian Riders Group and the Jain Society, all the time.
Her advice to girls is:
"When you are travelling alone, never speed. In fact, travel at a safe speed. Girls must undergo self-defence training and be mentally prepared and alert."
Her idea of women's independence doesn't only mean financial independence. She feels:
"A woman should be allowed to make her own decisions without constraints."