Here's a book about Udaipur for young explorers!
Udaipur – City Trails is a full-hearted book written by a young girl from Udaipur. The book is specially written with young readers in mind to connect them with the history, heritage and culture of the city in an interesting way. It takes you on a joyous guided tour of the city with attractive illustrations that displays all the important and amazing things of Udaipur.
The book is written by Aanya Bhandari, a high-school student who hails from Udaipur and studying at Mayo College Girls' School, Ajmer.
The book lets you discover Udaipur's best tourist spots including the seven lakes, City Palace, Monsoon Palace, Saheliyon Ki Bari, the cultural hubs of Udaipur – Lok Kala Mandal and Shilpgram and also a few visit-worthy places around the city like Kumbhalgarh Fort, Shreenathji Temple etc. It shares amazing stories of these places, their importance in history along with some lesser-known and fun facts.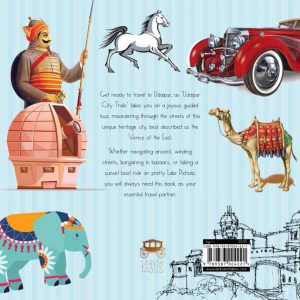 You can also learn about the famous Vintage Car Museum of Udaipur that showcases the classic car collection that belonged to the Maharajas of Mewar and the popular local festivals celebrated by the city.
Aanya recommends the readers to take a walk in the old city streets, check out the local bazaars, and have some amazing time in the sunset boat ride on beautiful Lake Pichola.
Udaipur – City Trails is a perfect guide for young explorers who are fascinated by history and wants to know the story behind the famous places and things.  It will show the readers the significance of every important place in the city.
I personally enjoyed reading the brief facts and recommendations in 'Do you know?', 'Must See' and 'Do not miss' sections which Aanya has presented in a very engaging way. It compels the reader to explore the place and experience the culture.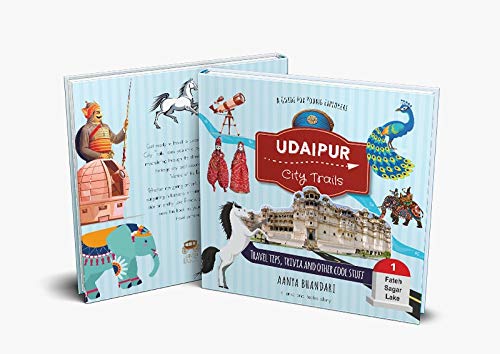 On the whole, the book is an interesting read for kids and adults both. Recommended for kids of 8 years and above.
About the author: Aanya is an avid debater who has a strong inclination towards history and politics. She is one of the youngest speakers to deliver a speech at the United Nations Headquarters in New York. At a young age, Aanya is deeply connected with the history, heritage and tourism of Udaipur. Her passion for tourism has materialised into the conception of this book – a travel guide for kids to make their journey all the more attractive and colourful, just like the book!