The first edition of Sanchi Samman-2022 Women Achiever's Award was organized on a grand event night at the gardens of Shouryagarh Resorts by the Sanchi Group. The Chief Guest of the event and star attraction was the eminent film actress and a famous jewelry designer, Neelam Kothari Soni. In her speech, Neelam told everyone about how she started her acting career at the age of 16. She told the audience about how she had done over 40 films as a successful actress. She talked about how her family supported her in all her ventures and decisions in her personal and professional life.
The Guest of Honor for the event was His Excellency Mr. Zulfiquar Ghadiyali, Executive Director at the Royal Office of HH Sheikh Hamdan bin Khalifa bin Hamdan Al Nahyan. He motivated the audience by sharing his experiences and journey in life.
EKA, the Rock Band from Delhi, moved and made the audience dance and enjoy the show. The nationally and internationally awarded Rock Band and called its music 'Swatantra Rock' which is music beyond music, time and boundaries. The band comprises of Hitesh 'Rikki' Madan on Vocals & Guitars (Ex-Euphoria) and Lokesh Madan on Vocals & Bass. The audience grooved to the high-energy and highly interactive performances of the band.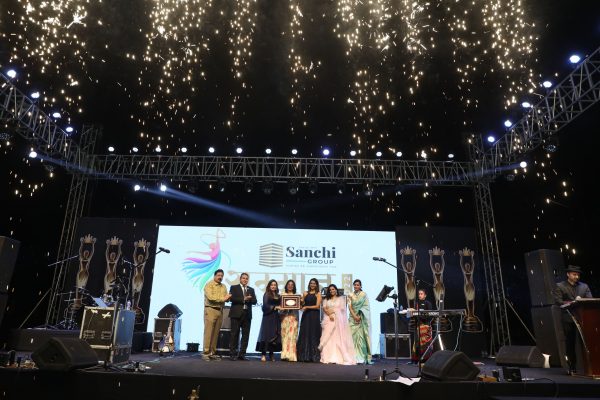 From a list of many successful women from different walks of life, the big task of finalization the names of the award winners was done by the eminent 4 member jury of Sonali Maroo (Director, Sanchi Group), Ashish Singh Chhabra (MD, Hotel Ashish Palace), Haseena Zaki Chakkiwala (Co-founder, Quality Marble Exports) & Rupum Sarkar (General Manager, Shourya Collection Hotels and Resorts).
The Chairperson of the event was Mr. Shanti Lal Maroo, Chairman and Managing Director of
Sanchi Group and Shourya Collection Hotels and Resorts. He welcomed all the guests and
shared the vision of Sanchi Group with the audience.
The event started with the welcome address by Mrs. Sonali Maroo, Director, Sanchi Group. She told the guests and award winners about the significance of these awards and the process. She talked about the real meaning of Women's Empowerment in today's time. She mentioned the importance of giving recognition and appreciation to every woman achiever in society.
The official corporate video of Sanchi Group was revealed at the event in front of the audience. The awards night was also presided by Mr. Sandeep Maroo and Mr. Chirag Maroo, Director, Sanchi Group and Shourya Collection Hotels and Resorts.
The prestigious "Life Time Achievement Award" was given to Mrs. Alka Sharma, Director of Central Public Senior Secondary School, Rockwoods High School and Rockwoods International School for her outstanding contributions in the field of education.
AWARDS AND HONOURS
An inspirational figure, it comes as no surprise that Ms. Sharma is the recipient of many awards and accolades. She has been felicitated with 'the Icon of Mewar,' 'Jewel of Udaipur' and the prestigious 'Women Inspirations of Rajasthan' awards. In addition to these, her school has been awarded the Best School Award 2017 by DNA along with Best Day-Cum-Boarding School 2021 Award by Education World & C-Form Survey. Her outstanding efforts were also recognized by the then President of India the Late Dr. A.P.J. Abdul Kalam, when the school received the Computer Literacy and Excellence Award.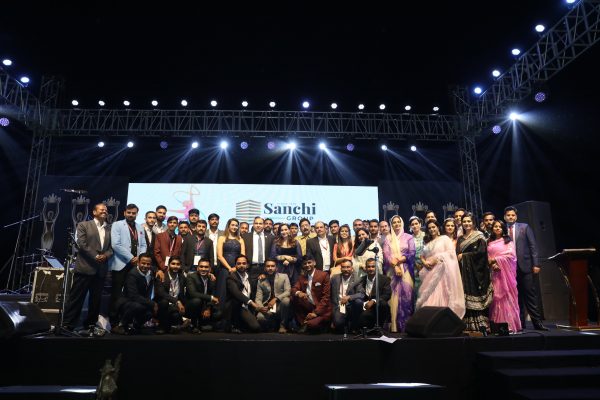 The following were the other winners of the Sanchi Samman 2022 – Women Achiever's Award:
● Dr. Vasudha Neelmani, Principal Rockwoods International School, Life – Leadership and Career Coach for Outstanding Achievement in K12 Education.
● Dr. Monita Bakshi, Director, Seedling Group of Schools for Outstanding Achievement as Edupreneuer.
● Archana Shaktawat, Clinical & Counselling Psychologist and Personality Enhancement Trainer, Director of Imprint Training Center for Outstanding Achievement in Corporate Training.
● Shweta Dubey, Director – Fusion Business Solutions Pvt. Ltd. ( FBSPL) for Outstanding Achievement in ITES.
● Saroj Sharma, Director – Nritya-Yoga Gram for Outstanding Achievement in Performing Arts.
● Pushpa Singh, Director of The Udaipur Mahila Urban Cooperative Bank Ltd. for Outstanding Achievement in Financial Services.
● Shikha Rathore, Director of Crossroads International School for Outstanding Achievement in Early Education.
● Smriti Kedia, Chief Executive of Sadhna for Outstanding Achievement in the field of Women Empowerment.
● Meena Khamesra, Owner of The Bake Affair for Outstanding Achievement in Baking & Confectionery.
● Riddhima Khamesra, Owner of Diet Clinic for Outstanding Achievement as a Nutritionist.
● Aastha Murdia, Director of Indira IVF for Outstanding Achievement in Women Healthcare.
● Madhavi Lodha, for Outstanding Achievement in Yoga & Wellness
● Dr. Deepa Singh, Director, Arth Skin and Fitness for Outstanding Achievement in Fitness & Wellness.
● Dr. Shilpa Goel, Consultant gynecologist and laparoscopic surgeon at Magnus Hospital for Outstanding Achievement in Medicine.
● Mamta Shekhawat, Director – Human Resource, The Woodenstreet Furniture's Pvt. Ltd. for Outstanding Achievement as an Emerging Entrepreneur.
● Miti Godawat, Pilot with Asia's one of the leading airlines for Outstanding Achievement in Aviation.
● Priyanka Joshi Chaplot, Founder of Foogle for Outstanding Achievement as a Foodpreneur – QSR.
● Vijayshree Shaktawat Jagat, Director Jagat Collection & The Indie Electric Studio for Outstanding Achievement in Media & PR.
● Labhdi Surana, International Speed Skater for Outstanding Achievement in Sports.
● Meeta Khaturia, Founder of Pinks & Peaches Makeover Studio for Outstanding Achievement in Beauty & Makeover.
● Mamta Talesra, Managing Director Wedding Vings for Outstanding Achievement in Events & Wedding.
● Saumya Luthra, FOUNDER of STUDIO PAPER CONCEPTS for Outstanding Achievement in Interior Designing.
● Prateeksha Dave, for Outstanding Achievement in Anchoring
● Mahiya Chittara, RADIO JOCKEY with 94.3 MYFM for Outstanding Achievement in Radio Jockeying.
● Aackriti Mallik,for Outstanding Achievement in Fashion and Modelling.
● Jigisha Joshi, Initiator Of An Organization KUTUMB for Outstanding Achievement as a Social Media Influencer (MEWADI BAI).
● Alka Sharma, Founder of Aavaran for Outstanding Achievement in Boutique Store.
● Kanisha Mehta, for Outstanding Achievement in Photography.
● Priyanka Arjun, Principal Architect, Priyanka Arjun and Associates for Outstanding Achievement in Architecture.
● Erika Abram, founder of Animal Aid Unlimited for Outstanding Achievement in Animal Welfare.
● Preeti Shaktawat, MLA Vallabhnagar for Outstanding Achievement in Rural Empowerment.
● Shikha Saxena, for Outstanding Achievement in Tourism.
● Anjana Sukhwal, Rajasthan Police Service for Outstanding Achievement in Public Service – Law & Order.
● Suchita Nagori,  for Outstanding Achievement in Legal Services.
The event was also co-sponsored by Shourya Collection Hotels and Resorts and Discovery
Tours and Travel. The event was concluded with a vote of thanks by Mrs. Monika Maroo, Director, Sanchi Group and Shourya Collection Hotels and Resorts.