AAVARAN (means 'covering' in Mewari language) was founded by Mrs Alka Sharma, textile graduate from Indian Institute of Crafts and Design, Jaipur, Rajasthan, by this Alka wanted to uphold rural and indigenous communities and preserve their 'traditional' craft.
The initiative was started from Akola, which is a block printing cluster near Udaipur. The aim was to revive the culture so that the coming generations can carry the art forward.
AAVARAN's workshop is predominantly of blue-white color, starting from the paint at the walls to cushion covers to pouches to the chappals to everything.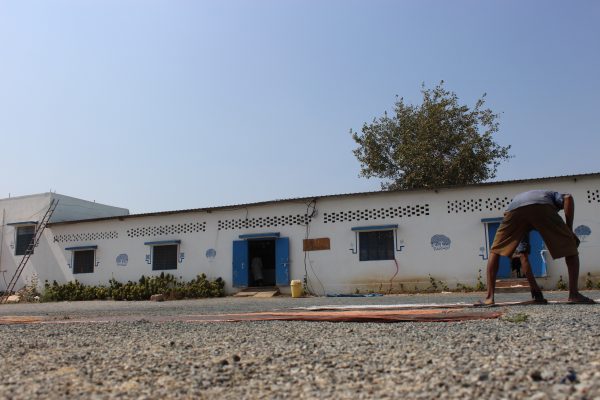 The process at AAVARAN is totally conventional, that's why the job is very labour intensive. They develop cloth from various types of cotton and silk (chanderi and kotadoriya). The cotton cloth takes around 15-20 days to develop whereas silk takes around a month because mud-resistant is to be applied on the fabric for 4-5 days and then it's bleached.
Cloth at AAVARAN goes through following stages to reach to you:
The fabric is imported from the Southern part of India.
The fabric is then washed to remove the impurities of the fabric which are the barrier in the printing procedure.
The fabric is then checked to ensure that there aren't any weave-mistakes or holes.
The plain cloth is dyed with various dyes, one of them being indigo dye.
The fabric is then printed in different colors and blocks.
The printed cloth is embroidered and stitched upon.
The stitched cloth is then packed in the stock room.
The finished product is consumed by both domestic and international markets.

aavaran udaipur
AAVARAN's speciality is Dabu print which is traditional hand block printing craftsmanship from vintage Rajasthan. It is made from Dabu which is a mud resist process, and comprises of black soil, gum (gond) and chuna (calcium hydroxide). A mixture of beedan and ground along with mud is used to make a sticky paste. Dabu is applied to the fabric using wooden blocks. At AAVARAN, artisans make use of single and double dabu dexterities for cloth printing.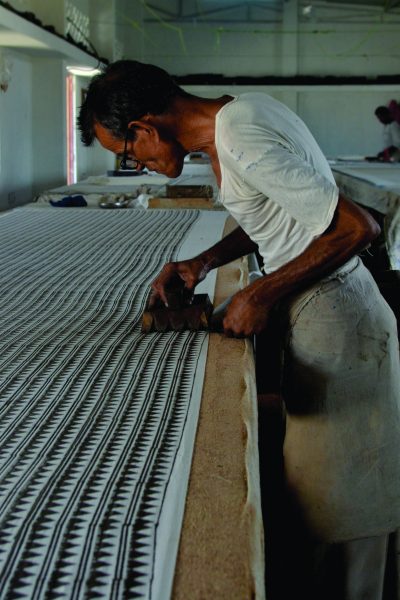 AAVARAN's USP is that they manufacture Indigo printed clothes which is Mewar's ancient expertise. They have 4 pits, each 9ft deep for bleaching the cloth with Indigo. After bleaching/dying the cloth is of greenish shade but turns into blue after exposed oxidization.
AAVARAN also specialize in Lep, as its literal meaning, mud is evenly spread on the cloth and left for drying after which the cloth is bleached and color texture can be seen in different shades on the same piece.
Zari and zardozi are one of the major embroidery craft done at AAVARAN.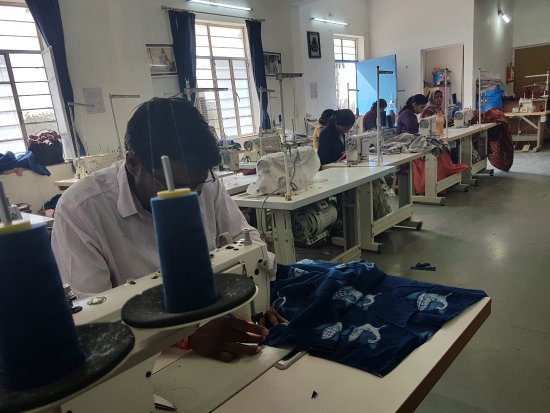 Till now around 300 people have been employed by this initiative out of which 100 are in-house employees at AAVARAN who are engaged in Block Printing, Stitching, Dyeing etc., Udaipur and other 200 are women in and around Udaipur who work in clusters of 30 each and do dari making, tassel making, button making etc.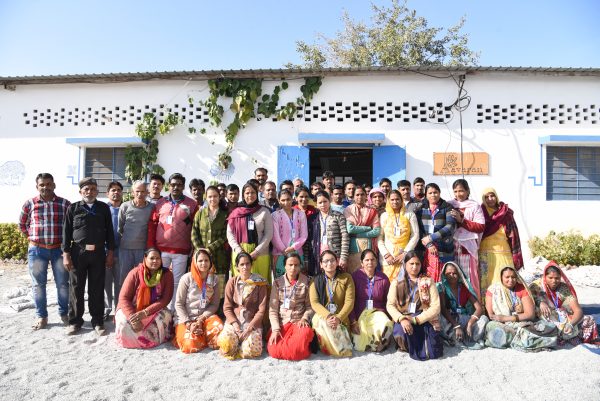 AAVARAN manufactures women's sarees, shirts, kurtas, tops, dupattas, pyjamas and skirts. The brand also has a men's cloth line and children's range as well as home decor such as bedsheets, carpets, cushion covers, etc.
Currently, their trade is Brand to Brand, they cater to Fabindia, Kilol and many other brands of Japan and Korea. They have 3 retail stores in Udaipur, Jaipur and Bangalore each; they'll soon be opening in Chandigarh as well.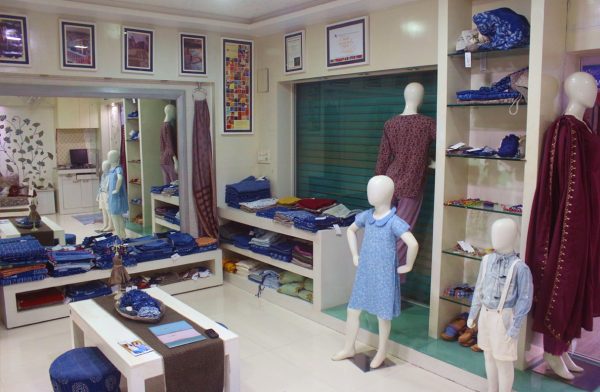 "We are a zero-waste company because we utilize all our scrapes in making home furnishings, jewelry, bags, pouches and many other embellishments" ~says Mrs Alka Sharma.