1. Experience Practical Learning
Everything from the beginning goes hands-on within the courses or modules to assist you in identifying skills into a promising arena while blooming your career and confronting better knowledge.
2. Paid Internships
The training here comes with onboard internships, which makes you experience enough to take a
Job
Freelance Work or
Start your own Business
3. Training Pedagogy
The programme is highly experiential and interactive. Comprising
Participant presentations and Discussions
Case studies
Classroom Lectures
4. Meetups & Networking Sessions
Moreover, you can also enjoy the workshops and meet-ups with experts in this field which are held on a timely basis for the students and professionals to grow and learn.
And, in this advantage, you can also encounter corporate training and Networking events that will make you dive into a feel to be in the industry arena within your comfort zone that is profoundly not witnessed anywhere. 
5. Portfolio
With every course, you can have an entire portfolio ready at the end of your training to showcase with your resume which will help you in future phase to work with professionals on-board and is likely preferable in start-ups and MNC's.
6. Team Building & Outdoor activities



The level of creativity raises more in learning when you take part in stimulating activities, and Digification takes care of the trainees while learning over a tour, workshops, and cafe meet-ups with experts and professionals to develop their criteria.
7. Lifetime Experience & Membership

It's an institute, which has turned up learning digital marketing into a lifetime experience. All the courses at DIGIFICATION come with lifetime access and membership, you enter as unknown and you end up becoming family.
DIGIFICATION
No.1 Digital Marketing training institute in Udaipur
Digification has thrived and gained the place in one of the best digital marketing training institutes in Udaipur and nearby regions. With their ideal course of ADMCP – Advanced Digital Marketing Certificate Program, now it has earned the badge of No.1 Digital marketing institute in Udaipur till date. And, when you are with them, you have the In-hand plans that you can set for 2019 along with Digital marketing which has the following modules:
Search Engine Optimization
Search Engine Marketing
Social Media Marketing & Advertising
Web Analytics
Email Marketing
Inbound Marketing
Blogging
The bundle of advantages doesn't end here, You can also customize your course with addons Graphic Designing as well as Website Design & Development, along with 12+ certifications that are must hold for a Digital Marketer.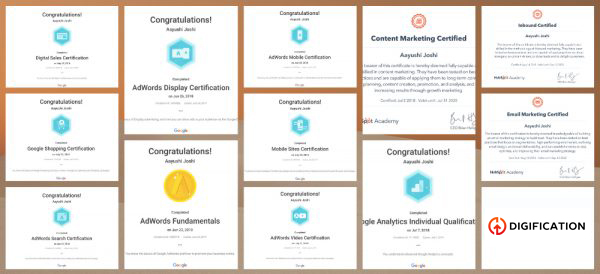 So now you know that a new trend is taking up Udaipur with hashtag #IamDigified associated with one of the best institutes for digital marketing in Udaipur – Digification.
The institute has been ideal amongst many students, homemakers, job seekers, and Internet geeks.
It's an institute, which has turned up learning digital marketing into a lifetime experience so much that if you would ask anyone from where to learn digital marketing in Udaipur, the immediate answer would be Digification.
Hear it in a word, what Digification is to its participants
Wanna be a Digital Buff?
Go #GetDigified & Open door of Digital World at first.
Kickstart Your Digital Marketing Career
Digification has been leading from the front since last 3-years in Udaipur to build a strong connection with the ones who want to learn and train self in the Digital world.
Fill out the form below to Get Free Consultation on Digital Marketing as a Career

DIGIFICATION
1st Floor,
Maharana Kumbha Sangeet Parishad,
Near Rishabh Travels,
Panchwati, Udaipur.
8854857019