With digital marketing taking over the traditional marketing methods, the appeal for website development in Udaipur has increased many folds. Today, every minute rather within seconds, numerous websites are being developed on which the ongoing startups are trying their fate. The trick hidden here is that the success of any online venture depends on a strong foundation and for these ventures budding on the ever growing internet world, their WEBSITE is the catch.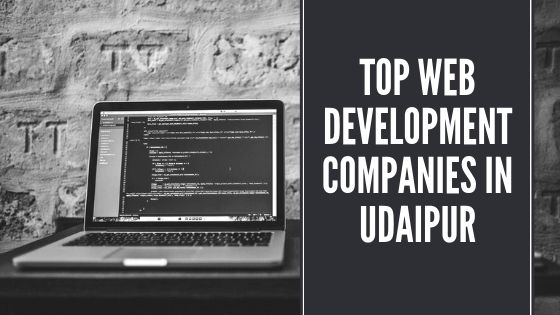 As we've all read at some point of our lives "First impression is the last impression", hence your website is the most crucial touchpoints for customers who are seeking the services your business offers. For that, you need a good web development company which can design a robust website with a great deal of expertise in the field. Sadly, choosing the best web development company is not an easy task but we got your covered.
Here's the list of top Website Development & Designing companies in Udaipur that rule the markets currently:
Elixir Technologies: Founded in 1994, Elixir Technologies Pvt. Ltd. is a complete IT solutions provider based in Udaipur, Rajasthan. The company provides various software solutions like Software Development, Mobile Application Development and many more.
Address: Vijay Enclave, Plot No. 721 Gavri Circle, Sector No.11, Hiran Magri, Udaipur, Rajasthan 313002
Phone: 0294-2484181,  +91-8696900696
—
TechMeraki: Being a market leader with unmatched technical expertise, TechMeraki visions to become a company that becomes the helping hand to every growing and grown enterprise. Be it small business owners or large corporations. The brand aims at nurturing their client's businesses online with best and extraordinary development services.
TechMeraki has dedicated and efficient teams for all the tasks that are required for a business to mark its presence online. No matter if you are a small business owner or a large corporation, this brand can help you reach your target audience and achieve exponential business growth.
Address: TechMeraki, S-28, Second Floor, Manglam Fun Square, Durga Nursery Road, Udaipur, Rajasthan 313001
Phone: +91-8209368742, +91-9929067498
—
BaymediaSoft: Baymediasoft, which originated in 2011 has emerged as a highly versatile provider of a complete suite of web-related services. The brand develops creative websites and mobile apps. The brand believes in converting their client's ideas into a high quality product. It also offers full management for projects, starting from designing to development in a given time frame. They help their clients in analyzing risks and opportunities that address both short-term marketing challenges as well as long-term value creation.
Address: Mehta Sadan (303), Durga Nursery Road, Udaipur, Rajasthan, 313001
Phone : +91-7725913556
—
Papasiddhi: Papasiddhi has always been keen on providing IT services and specializes in mobile-based products/services, digital marketing handled by professionals. 
Address: B-109, B Block, Saheli Nagar, Udaipur, Rajasthan 313001
Phone: +91-9352904020
—
3i planet: 3i Planet offers an exclusive range of software solutions at an affordable rate in and around Udaipur, Rajasthan. The brand offers exclusive services on SEO optimization, web designing, software development, and graphic designing services.
Address: 499 – Chanakyapuri, H.M. Sec.4, Udaipur, Chanakya Puri, Pooja Nagar, Hiran Magri, Udaipur, Rajasthan 313001
Phone: +91-9667357394
—
Technetizens: Founded in 2013, Technetizens is a leading Web design company in Udaipur. This is a digital agency which offers premium web design, web development, eCommerce, app development and internet marketing services. 
Address: Saraswati Sadan, Behind Alakh Nayan Mandir, Ashok Nagar Main Road, Udaipur, Rajasthan 313001
Phone: +91-8947861413
—
IFW Web Studio: This organization offers full-time website designing  and digital marketing. It works in association with its parent company, IFW Techno Creations Pvt. Ltd. which is based in Udaipur, Rajasthan. Being one of the foremost offshore service providers in India, they offer a wide range of web designing and development services to organizations across the world.
Address: Nahar Tower, Near Andhra Bank, Shakti Nagar, Udaipur, Rajasthan 313001
Phone: 0294-2412331, +91-9414223660, +91-9314409691
—
MindGrove eSolutions Pvt. Ltd.: MindGrove ESolutions is a digital company based in Udaipur, Rajasthan providing an array of digital services such as website development, graphic designs, digital marketing solutions and the development of mobile apps. 
Address: 1, Nyay Marg Court Circle, Udaipur, Rajasthan 313001
Phone: +91-9829476405
—
Webyot: Webyot is an offshore software development Company dedicated to help its customers get the best from the web with a complete range of software mobile app, web development, custom web design, e-commerce development and much more.
Address: Vinayaka Complex, 303, 3rd Floor, Vinayak, Durga Nursery Road, Udaipur, Rajasthan 313001
Phone: +91-9521374992
—
Phppoets: PHP Poets IT Solutions Pvt. Ltd is a renowned software development company in Udaipur, Rajasthan. The brand specializes in the web and mobile app development and with flexible engagement models and unparalleled value proposition. Offering next-gen software solutions
Address: 193, Subhash Nagar, 60 Feet Main Road, Near Passport Seva Kendra, Udaipur, Rajasthan 313001
Phone: 0294-2521695, 2414044
The names mentioned in the list is prepared keeping in mind the latest reviews, company's online presence, the brands they've worked with, and specialization in their respective fields and we hope this article helps you find the right Internet partner.