One of the things that Udaipur is best known for is rich food that results from an incredible cooking style that is heavy on spices. This Indian city's cuisine boasts elements from different countries including Asia and South America; precisely from China, Mexico, and Lebanon. What's more, the cuisine caters to people with different dietary preferences including vegans and nonvegetarians. In other words, Udaipur can offer you pretty anything you want in terms of delicacies. If you are visiting the city, here are the top 5 dishes one of which you should at least try; 
1. Thali Bhojanam
In English, the words "Thali" and "Bhojanam" translate to "metal" and "full meals," respectively. Therefore Thali Bhojanam simply refers to full meals served on a wide metal platter. 
Thali bhojanam is a popular dish not only in Udaipur but in the Rajasthan state at large. Also common in other North Indian states like Uttar Pradesh and Punjab, this must-try delicacy consists of several parts that bring out all the six different flavors or tastes of food. These tastes are; sweet, bitter, sour, salty, spicy, and astringent. This is in line with the Indian food custom where Indians believe that a proper meal should consist of a perfect balance of all the six flavors or tastes of food.
Whether you are a vegetarian or a nonvegetarian, there's plenty of options for you as far as thali bhojanam goes. Remember that different variations of this dish are available. Vegetarian thalis consist mainly of different kinds of whole grains, vegetables, meats, and stuff that is derived from animals. These include rice, bread, lentils, chutney(a spicy Indian condiment made of vegetables or fruits with sugar, spices, and vinegar), and raita(a side dish of Indian origin that consists of yogurt that contains a wide range of chopped spices and vegetables). Non Vegetarian thalis include meat on top of the nutrients above.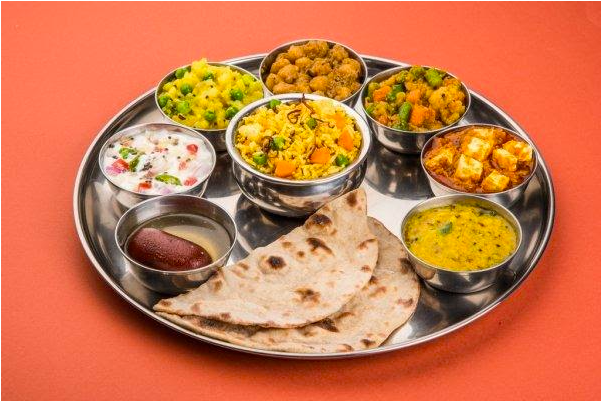 Source: depositphotos.com
2. Dabeli
This is a popular food in Udaipur that is delicious, filling, and very addictive. This snack delicacy
consists of the Indian burger bun that is locally known as "pav", potatoes, and peanuts. It is also made of pomegranate and masala. The bun is filled with the other ingredients above, which are combined to form a spicy, tangy filling. 
Many restaurants in the city and food kiosks downtown sell this delicacy as a quick snack that you grab with a bottle of soda. Be careful where you order your dabeli downtown as some eateries and outdoor vendors do not observe high hygiene standards. 
3. Pav Bhaji
Pav bhaji is another tantalizing dish you don't want to conclude your trip without trying. This top-rated delicacy consists of a highly seasoned meal of boiled, mashed, and slow-simmered vegetables. The vegetables are spiced with an incredible array of spices. Served on the sides of the plate are; a piece of pan-fried bread, a few slices of lemon, and sweet red onions. Each side item is in a separate compartment as the dish is served in a large, metallic, partitioned platter with several compartments. This is a terrific choice for vegetarians and nonvegetarians alike. 
Just like dabeli, this is also a very popular delicacy in town and it's part of the menus offered by many restaurants. Just ask for it at your favorite restaurant and you won't be disappointed. 
I even learned how to make it. All you need are ten basic ingredients namely; peppercorn, coriander seeds, black cardamom, some green cardamoms, and fennel seeds. The rest are; cumin or jeera, red chilies, cinnamon, and cloves. 
For those who use a meal kit delivery service, you can obtain most of these ingredients from your meal kit delivery service providers. I know of like ten different meal kit providers I could recommend to those in search of a trustworthy meal kit delivery service. If you are one of them, you could check out Home Chef, Blue Apron, Sun Basket, Hello Fresh, Purple Carrot, and Freshology. You could also consider Marley Spoon, Everyplate, Grubhub, and Seamless. 
Notably, each entity has something that sets it apart from the rest. For example, Blue Apron sets itself apart from the rest with its unrivaled gourmet meal kits. For more about each service, here's a fact-based and knowledge-packed review post you might want to read (on the example of New York meal delivery services). By reading it, you'll see why Freshology is the best option for those who struggle with weight loss. Also, you'll discover which entity is the cheapest of all, and get many other details about these meal kit delivery services, including the advantages and disadvantages of each.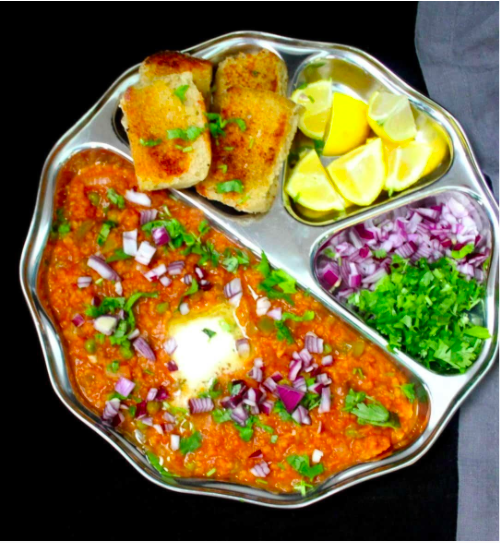 Source: holycowvegan.net
4. Mirchi Bada
Mirchi bada is another delectable snack you just must try when visiting Udaipur. This delicacy consists of a roll that is made with besan, which refers to chickpea flour used in baking. The roll is stuffed with a sumptuous filling of coconut, peanuts, coriander seeds, and carom seeds. For a more mouthwatering experience, the dish can be served with a spicy soup that is made with all manner of spices and herbs. 
5. Baati 
Cooked in many parts of Rajasthan(the state where Udaipur is located), this hard, unleavened bread is yummy and so rich in flavor that you won't be able to resist it. The bread is known for its high nutritional value and long shelf life. For a more delectable, filling, and healthy meal, it's commonly taken with dal(split pulse stew). You can also take it with churma(a melt-in-your-mouth side dish made of ground, crushed wheat cooked with sugar and ghee or clarified butter). 
Final Thoughts
Udaipur is prized not only for its unique attractions but also for its unsurpassed variety of mouthwatering delicacies. For those who are visiting the city, there are certain foods that you just can't conclude the trip without trying. The list includes thali bhojanam, dabeli, pav bhaji, mirchi bada, and baati. Try these delectable options or at least one of them and you can thank me later.