The biggest festival of lights has come to its final phase. The celebration has come to an end. The festivities are over and have left behind some unforgettable beautiful memories.
Being the biggest festival of the country, Diwali is celebrated with an altogether different zeal and feel. It fills the heart with happiness and joy and let us create some beautiful memories with our loved ones.
With the same spirit and purpose, Udaipur celebrates Diwali in the form of Udaipur Light Festival. And like every year, UdaipurBlog celebrated the biggest festival in the most beautiful and glorious way. Udaipur Light Festival 2019 was filled with fun, happiness, adventure, music and memories.
An UdaipurBlog initiative, ULF makes people celebrate Diwali at a common place to share their happiness with each other. This has been the city's biggest event since 2012 which allows people to meet, eat, celebrate and have fun together.
The love and warmth that people have showered in ULF2019 cannot be expressed in words. And we can't thank you enough for making it a super grand event for us to look back to.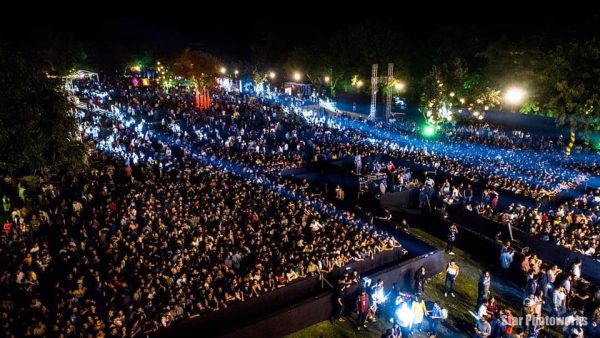 UdaipurBlog expresses its sincere gratitude for making ULF2019 such a success. We are thankful to all those who have been a part of this event directly and indirectly.
We are thankful to the humongous crowd that gathered to join us in the celebration. We would like to thank our celebrities Ash King and Ritviz and the event host Vishaal Rasquinha for entertaining our guests and elevating the fun of the celebration. A warm thank you note to SADA Dance Academy for an amazing dance performance. 
We are thankful to our partners
Light and Sound Partner – Bharat Music
Decor Partner – Rajkamal Tent House
Design Partner – VCD College of Designing
Photography Partner – Star Photoworks
Venue Partner – Shouryagarh Resort & Spa 
Execution Partner – The Enchanted Affair
Hospitality Partner – Justa Sajjangarh Resort and Spa
Visual Partner – VJ Ravi
SFX Partner – Naman Fireworks and Events
Adventure Sports Partner – The Jalsa Food and Adventure Hub
Radio Partner – 94.3 MY FM
Art Installation Partner – P.S. Let's Party
Fire Safety Partner – Visvesvaraya Foundation
Communication Partner – Amenity Rentals and Services
Security Partner – Ganga Security
Water Supply Partner – Insta-Qua
Technology Partner – Assure IT-Infra
Thanks to our Food stall partners – Game of Cheese, The Shake Maker, Book A Surprise, Hariyali Restaurant, Sai Sagar Coffee House, Bhatti & Bakes, Lalaji and Masala Ministry.
Moreover, we also want to thank our team of volunteers who made every big and small task possible. A special thanks to the Udaipur Administration, Police Department & Smart City Udaipur whose support made it possible to execute this event.
We are sure that everyone associated with ULF2019 had a gala time. Your happiness is an encouragement that motivates to bring the best for you every year.
It was not just an evening but an experience that will be etched in our memory to cherish for a lifetime. On this note, we promise to bring even more beautiful and amazing ULFs for years to come.
Thank you once again.
इतना प्यार दिया है, कहने को अब और क्या है!
इतना ही कहेंगे की तह-ए-दिल से आपका शुक्रिया है |