After the review meeting of the District Disaster Management Authority held on Friday, the Udaipur District Administration issued a notice stating that 4 Police Station areas under Udaipur Municipal Corporation including Sukher, Goverdhan Vilas, Savina and Pratap Nagar are declared as Out of Containment Zone.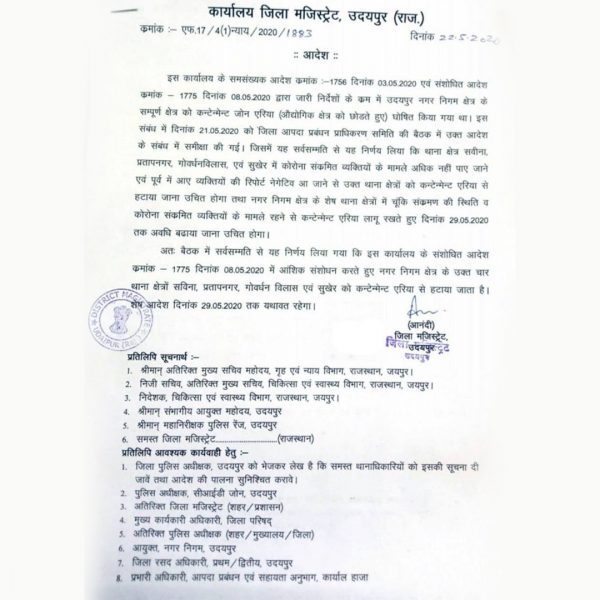 However, the remaining areas under the municipal corporation would continue to be in the containment zone for another week i.e. until May 29, 2020.
Further, with the mentioned police station areas declared as out of the containment zone, the localities falling under these areas would be given conditional relaxation as per the Lockdown 4.0 guidelines.
This will allow the shops, salons and offices to open within the time limit of 7 am to 7 pm. Restaurants and sweet shops can be open for home delivery.
However, the guideline does not allow the malls, schools, coaching institute, movie halls, religious places to open for public in any of area. Besides the selling of Paan, Gutkha, Taboccoo items are also prohibited everywhere.
As per the guideline, people above 65 years of age, kids below 10 years of age, pregnant ladies and persons with poor health conditions will also not come out except for an emergency purpose.
Notably, with the sudden rise in corona positive cases, the District Administration of Udaipur had declared the entire municipal area of Udaipur as a Containment Zone on May 8, 2020.