Looking for investing in a high return industry worth USD 3 bn? Know about the safest option to invest in a business in Udaipur.
By investing Rs 22 lakhs, a transportation business opportunity allows you to earn around 7 lakhs per year without any maintenance fuss.
Recently, in a major move to improve the air quality in a phased manner, Patna government decided to ban diesel-based autorickshaws from January 31, 2021. The decision to phase out the most pollution-emitting vehicles was taken in view of the growing contamination of ambient air, which has deteriorated to the worst level in Patna and a few other cities this season.
In fact, India is making a big push for electric vehicles, signalling a turning point in its clean energy policy. In 2017, Transport Minister Nitin Gadkari announced that he intended for India to move to 100% electric cars by 2030. That was an ambitious target given that even the UK and France were hoping to phase out conventional combustion-engine cars only by 2040.
Seeing this futuristic business prospect, Growdiesel, India's No.1 clean-fuel exploration and production organization, launched a whole new ecosystem of the electric auto transportation system called Growdiesel Electric Transportation System (G.E.T.S) for the first time in the country from Udaipur.
Growdiesel's core business is to produce and sell renewable clean fuel. The company was founded with a belief that it is possible to transform the future, to take steps and make differences to the lives of millions of people.
Growdiesel is coming up with a fleet of electric auto and a network of charging stations for them. As a business plan, the company will be leasing out these electric autos while taking care of its servicing and maintenance keeping the business completely hassle-free.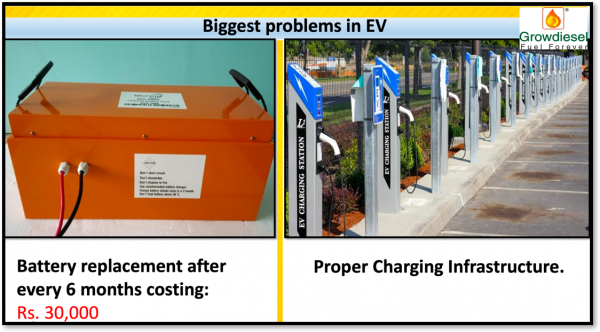 In an interview with the director of DSC BIOENERGY Mr Vaibhav Chhajed, he explained the business model of the company.
"With the booming market of electric transportation, increasing petrol and diesel prices, almost no safe high return investment, our model comes up as a boon for business and environment. We have created an entire commercial charging infrastructure wherein we want to relieve all our investor from any kind of management hassles. It's a win-win for anyone who invests. No businesses with such low investments can give returns as fast as this as of now." explained Mr Chhajed.
"Our electric autos are strongly built with modern features like reverse parking camera, fire extinguisher etc. It can also take elevation up to 15 degree which is 7 times of normal e rickshaw", he added.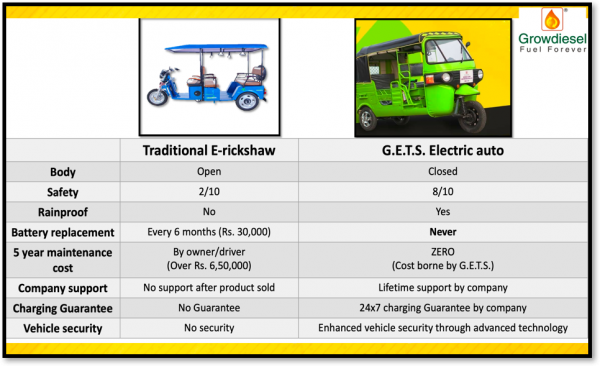 If we look at the other countries involved in a similar kind of business, we see China as the world's largest electric vehicle market. It has the world's largest network of charging stations for such vehicles and is also the world's largest manufacturer of batteries. And according to recent figures, sales of New Energy Vehicles (NEVs) – including electric and hybrid models – increased substantially in 2018 in China.
What makes our opportunity unique?
The investor gets 10 electric autos on a lease which also covers vehicle insurance, registration and lifetime battery maintenance.
The company has come up with an entire ecosystem where it has brought modern electric autos with commercial charging infrastructure and lifetime battery swapping.
Benefits:
Quick ROI
Support in planning and execution
Opportunity in a highly profitable market
Technical Support
High returns on investment (30%)
Interested in the above franchise model?
Contact now to know more and become a franchisee!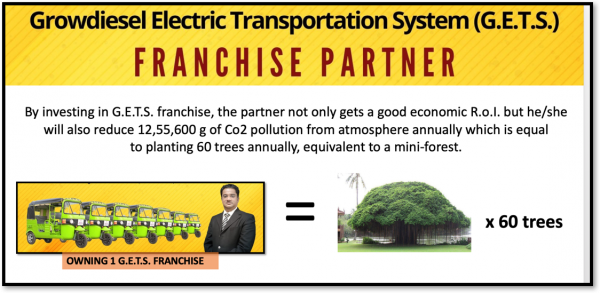 Mr Vaibhav Chhajed, Director, DSC BIOENERGY PVT. Ltd
Call: +91-8290999436
Or submit the Growdiesel Electric Transportation System (GETS) Franchise Form on the link below: